How Much Time Does Maduro Have?
Venezuela's president is part of the country's problem, but the opposition can't get rid of him.
By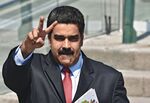 As Governor Henri Falcón takes his morning jog through Barquisimeto, the capital of Lara state in Venezuela's farming heartland, the scene is bleak. It's not dawn, and the stores don't open until 8 a.m., yet hundreds are lining up to buy food. Even after daybreak, windows will remain dark because of rolling blackouts; government services have collapsed; and hospitals are so crowded that the sick share beds.
Falcón is a rarity in a deeply polarized country: a lawyer and former military man who broke ranks with the late Hugo Chávez yet remains in power as part of the opposition. Three months ago, the opponents of Chávez's successor, Nicolás Maduro, won an overwhelming victory in legislative elections. The opposition's leaders decided to give Maduro six months before they would try to oust him legally. As Falcón runs through the city, nodding to constituents, he provides his analysis: Don't expect anything to change soon; the suffering must get much worse before the Maduro government releases its grip on power. "We're at the doorstep of the abyss, a catastrophe in the country," he says. "But we're not facing a crippled adversary. It would be naive to think so."
Since the elections, the animosity between Maduro and the opposition has grown so bitter that the government spikes the bills drafted by the opposition congress while offering little in the way of alternatives. Venezuela continues to slide deeper into economic depression.
Over the last month, opposition parties have been debating how to force Maduro out as soon as is legally possible. They may try to remove him by amending the constitution to shorten the length of the president's term in office from six years to four. They may rewrite the constitution entirely, which could force the president to step down while a new charter is being drafted. A recall referendum is an option.
Maduro isn't going to go easily. With firm control over the oil industry—the only cash cow in the economically moribund country—he's been able to maintain his hold on crucial elements of popular welfare programs and has treated the military well, so it's unlikely to dislodge him. He still pins the blame for Venezuela's plight on an "economic war" being waged against his country by the U.S., as well as his local opponents, an argument that appeals to loyal Chávistas. "Venezuela is facing an international financial blockade," Maduro told TV viewers in mid-February while unveiling some economic reforms, although there is no such blockade.
Opposition leaders, for all their promises of a new day, insist the government take responsibility for the country's near-bankruptcy and the failure of its economic model, something Maduro is unlikely to do. "Politically, the country is frozen," says Carlos Romero, a political scientist at the Central University of Venezuela. "Economically, the government doesn't want to assume the costs of adjustments, yet neither does the opposition." The adjustments are painful, unpopular structural reforms.
With billions of dollars in government bonds coming due this year, Maduro has made some changes. He devalued the currency and hiked the price of gasoline more than 60-fold—it still costs just pennies to fill up a tank. He's trying to lease large stretches of rich oil and mineral deposits to Canadian, Russian, and other foreign investors. But years of mismanagement and a drop of more than 70 percent in the price of oil mean those measures will do little more than extend his government's lease, say skeptics. "It gives the government breathing room to avoid a default, but it's not enough to avoid economic crisis," says Venezuelan economist Alejandro Grisanti, formerly with Barclays Capital. The International Monetary Fund expects inflation to surpass 700 percent and the economy to shrink for the third straight year.
One of the issues facing Maduro is that the other remedies to the crisis—loosening state controls, rolling back subsidies, and returning hundreds of businesses and tracts of private land seized by Chávez—aren't part of the government's strategy. Temir Porras, a former top aide to Maduro, poses the dilemma of any leftist regime this way: "How do I face a situation like this one without employing socially regressive policies?" As a result, "they have been paralyzed," says Porras, who remains a member of Maduro's party.
The president has barely acknowledged his electoral defeat in December, ceding little ground to the opposition. He's used the courts to sidestep congress's decisions and vowed to block the opposition's central initiatives, such as giving deeds to public housing residents and granting amnesty to dozens of jailed politicians and activists. At the same time he's gone through three economy czars in three months, turmoil that hasn't helped reignite growth. One former Maduro associate says the president is no longer the decisive leader he once was and that he's being pressured by advisers with conflicting views of what to do.
For its part, the opposition has no unifying agenda beyond unseating Maduro. "Venezuelans' hope for an immediate change in government is, in practice, an illusion," says Jose Vicente Haro, a lawyer and head of the Venezuelan Constitutional Law Association. Barring a resignation by Maduro, some believe a break in the political stalemate will occur only after greater economic and social deterioration. "Any other option only becomes available when we're in a situation that is far worse than what we are in now," says Margarita López Maya, a historian at the Central University of Venezuela.
Governor Falcón, who's participated in unsuccessful meetings among government, opposition, and business leaders, says he still believes in dialogue. "There is no other path; the other is confrontation, anarchy."
The bottom line: President Maduro is determined to cling to power but must outwit opposition lawmakers to do so.
Before it's here, it's on the Bloomberg Terminal.
LEARN MORE