Valeant's Boss Is Back: Can the CEO Save the Day, Again?
The "irreplaceable" Michael Pearson returns to his old drug company facing debt woes, congressional pressure, and a plummeting stock price.
By and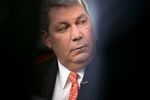 On Sunday, Feb. 28, Valeant Pharmaceuticals finally had some good news for shareholders. The Canadian drug company said its chief executive officer, Michael Pearson, who'd been on extended medical leave, would be returning to his post. He would give up his title as chairman of the board, perhaps to quell any internal detractors—CNBC had reported several days earlier that board members had debated whether Pearson should come back at all. But after weeks of uncertainty following his December hospitalization for severe pneumonia, Pearson seemed ready.
There'd be no easing back in. That same day, Valeant canceled a Monday morning earnings conference call. In addition, the company said it would have to reissue its financial forecast for the year.
On Monday, Valeant revealed that it was the subject of an investigation by the U.S. Securities and Exchange Commission for a matter apparently so delicate that the company refused to describe it. The SEC isn't saying, either. It was almost as if the company had come up with the perfect way to spook its investors right as it was trying to reassure them. By the end of the day, Valeant's stock lost 18 percent of its value. And Moody's Investors Service chose this moment to say it was reviewing Valeant's $31 billion in junk-bond debt to see if it required a downgrade.
It's yet another stunning turn in one of the most incredible business stories of the past year. Less than a year ago, Pearson's cheerleaders—many of them professional money managers, such as Bill Ackman of Pershing Square Capital Management—were saying that he was revolutionizing the pharmaceutical industry. Pearson had long argued that the industry wasted too much money on unprofitable research and development projects. He said drugmakers were better off buying other companies and exploiting their portfolios. Accordingly, he had turned Valeant into an acquisition machine and, though he rarely discussed it, a serial hiker of drug prices, another pillar of the company's strategy.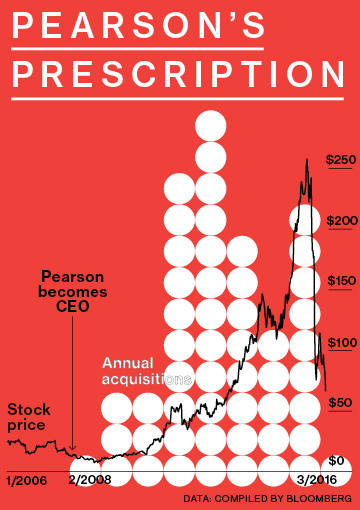 Valeant's share price had soared from $13 on Pearson's first day on the job in 2008, to $263 in August, but that wasn't the only validation of his approach. Other pharmaceutical companies learned from Pearson's model, too. Pfizer, the maker of drugs such as Viagra, was essentially going down a path blazed by Valeant when it announced it would buy Allergan in a $160 billion deal that would be the largest in the industry and that would transform (or "invert") it into an Irish-domiciled company, enabling it to avoid American corporate taxes.
Skeptics have characterized Pearson's work as nothing more than hollowing out research, playing financial games, and squeezing dollars from the helpless and sick, who can't make choices about what they buy. Warren Buffett's longtime partner, Charlie Munger, described Pearson's practices as "deeply immoral." A spokeswoman for Valeant says the company continues to spend substantial amounts on research and has created jobs in the U.S.
Moral or not, Pearson has clearly changed the industry. Perhaps his return was never in doubt, but it will be closely watched. Valeant declined to make him available to comment on his departure, or his comeback. Two weeks before he became sick, however, Pearson, who remains Valeant's largest individual shareholder, all but dared directors to get rid of him. "If the board wants to fire me, they're welcome to fire me," he said. "But until they do, we're gonna get through this thing."
 
 
Valeant was founded in 1959 by the exquisitely named Milan Panic, a Yugoslavian-born entrepreneur who defected while he was competing as a member of his country's Olympic bicycling team. Panic (pronounced PAN-eech) came to America with $20 in his pocket and a few years later started a company known as ICN Pharmaceuticals in—where else?—his garage. He became a multimillionaire by purchasing niche products such as dermatologic drugs and by developing ribavirin, a successful antiviral compound, which he hoped at one point might be a cure for cancer. His exploits made him a folk hero in his homeland of Serbia, where he returned in 1992 to run successfully for prime minister only to be forced out after eight months by the country's former president and strongman Slobodan Milosevic. A few years after returning to the U.S., Panic ran afoul of the SEC for allegedly making false statements about ICN's products. In 2002 he settled the claims without admitting wrongdoing and finally retired, much to the relief of ICN's largest investors. The company changed its name to Valeant.

Even after its release from Panic's grip, Valeant continued to struggle. In 2007 its chairman, Bob Ingram, called Pearson, who was then head of the pharmaceutical practice at McKinsey. Pearson was a natural person to contact for help; he was the confidant to some of the industry's biggest names and an iconoclast. The son of a Bell Canada employee, Pearson was raised in Canada. He moved to New Providence, N.J., outside New York, when he was in sixth grade after his father got a job at AT&T. His new friends called him Nuck, short for Canuck. Back then he was slim and athletic, and he sported a Prince Valiant haircut. Peter Nobbs, one of his closest friends, recalls that Pearson loved hockey and got up at 3 a.m. because it was the only way to get ice time at the local rink. "It was fairly obvious he was going to be pretty darn successful." Nobbs says. "It was just his personality type. He was just driven."
After high school, Pearson went to Duke University, where he joined the Sigma Nu fraternity, impressing his fellow members with his ability to be something of a party animal and still excel academically. "He just seemed to be able to get good grades," says Walton Kelly, a fellow Sigma Nu member. "I wouldn't say with a minimum of effort, but he wasn't stressed out over his classes like a lot of us were." Pearson also met his future wife, Christine, a nursing student at the university. They have four children.
Pearson graduated from Duke with a degree in engineering in 1981 and got his MBA at the University of Virginia's Darden School of Business. In 1984 he joined McKinsey, where he spent the next 23 years. At the time, several of Pearson's former colleagues there say, McKinsey was a clubby place full of Ivy Leaguers who thought of the firm less as a business and more as an ivory tower to which clients came seeking enlightenment. Pearson, on the other hand, thought it was his job to make money for his clients and the firm. He seemed contemptuous of his more academically minded colleagues. He showed up late for meetings, although he often quickly grasped what was going on. He worked bruising hours, once telling a reporter he took 400 flights a year during his consulting days. It wasn't unusual for his colleagues to arrive in the morning and find him asleep at McKinsey's Florham Park, N.J., office because he hadn't gone home the night before.
Some at McKinsey resented Pearson, but the firm's pharmaceutical clients adored him. He got to know many of the industry's most prominent CEOs, among them Schering-Plough's Fred Hassan and Johnson & Johnson's William Weldon. All management consultants say they can help clients reduce costs and create more efficient organizations, but Pearson developed a reputation for being able to do it.
As Pearson studied the industry, he developed a theory about it. He thought it wasted too much money not just on R&D but also on personal secretaries, public relations, and investment banking advice. When Valeant sought his advice, he told the company to cut its research spending and to concentrate first on dermatology and then on growing through acquisitions. Valeant's board was so taken with Pearson's ideas that it offered him the top job. Pearson took it. He'd finally have a chance to prove he wasn't just a guy who dispenses advice. Now he could actually run a company, even if it was a troubled one like Valeant.
The company was based in Southern California at the time, but Pearson set up an office for himself and his key executives in an old YMCA with a basketball court in Madison, N.J., close to his home. On Friday afternoons his employees sometimes played hoops. One visitor called it Pearson's man cave. Others say it was perfect for a guy who was still a frat boy at heart.
Pearson also got a lot of work done at the old Y. He came up with an ambitious turnaround plan for Valeant. Within a few months he'd cut the company's 3,000-person workforce in half. In Pearson's first year, Valeant spent 9 percent of its annual revenue on R&D. Over time, Pearson reduced that to 3 percent. (Why sink money into testing drugs when you could drive the stock price up by purchasing other companies?) In 2010, Valeant merged with another of Pearson's former McKinsey clients, a Canadian company called Biovail, which had a similarly troubled history. It had settled a case with the SEC two years earlier, agreeing to pay $10 million to resolve accounting fraud allegations after it said it missed its quarterly earnings estimate because of the crash of a truck filled with its antidepressants.
But Biovail had something that Pearson knew would be extremely valuable: a non-U.S. address. Once the merger was completed in September 2010, Valeant became a Canadian company, and its statutory corporate tax rate fell to 27 percent from 35 percent. That meant it could pay even higher prices to buy U.S. drug companies, because Valeant could cut their tax bills once the deals closed.
In March 2011, Valeant made a bid for Cephalon, a Pennsylvania company that made sleep-disorder drugs. Cephalon's founder, Frank Baldino, had died three months earlier of leukemia, and his former colleagues were still mourning his passing. Not unexpectedly, the company rejected Valeant's offer, but Pearson launched a hostile $5.7 billion bid, castigating Cephalon's board for resisting his overtures. The company agreed to be acquired instead by Teva Pharmaceutical for $6.2 billion.
Pearson picked another fraught moment in 2012 to go after Medicis Pharmaceutical, a Scottsdale, Ariz., company that made wrinkle cream and other dermatologic products. In July of that year, police had discovered the body of Medicis CEO Jonah Schacknai's girlfriend at his home in Southern California. (Her death was later ruled a suicide.) The company's stock tumbled. Two months later, Valeant announced it had struck a $2.6 billion deal to buy Medicis.
Before the acquisition closed, Pearson visited Medicis's headquarters. According to a former Medicis executive, Pearson told members of the R&D team to give him the odds on the success of its projects in the pipeline, and he canceled anything below a certain threshold. (A Valeant spokeswoman disputes this account, saying that Pearson leaves such decisions to a group of scientists who make their recommendations using secret ballots.) Valeant ended up dismissing 750 of Medicis's 790 full-time employees, according to a July U.S. Senate subcommittee report on companies that have done tax inversions, such as Valeant. Employees whose jobs were being terminated received their notifications in black envelopes. A former Valeant employee says the company didn't intend to be so funereal while conducting its layoffs—he says the envelopes were the only ones available in large quantities at Staples.
The following year, Valeant said it would pay $8.7 billion to acquire Bausch & Lomb, a company based in Rochester, N.Y., that was known for making contact lenses. By now, Pearson's penchant for downsizing was familiar to the industry, and people at the company were terrified. Three former Bausch & Lomb executives say Pearson visited Rochester and pressed the company's scientists to give him the odds on whether their projects would bear fruit. One says Pearson canceled anything with a projected success ratio below 70 percent. (The company spokeswoman disputes this as well.) In the end, according to the Senate report, Valeant got rid of 1,125 of Bausch & Lomb's 4,103 employees in the U.S. There were no black envelopes this time.
By now, Pearson was wealthy, but he didn't pamper himself. He didn't have a fancy office; he still often worked in the old YMCA near his home. He ate overstuffed sandwiches for lunch, while his colleagues nibbled on salads. A former Valeant executive says Pearson couldn't climb the stairs in the company's primary American office in Bridgewater, N.J., without gasping for breath. Yet Pearson continued to work long hours. Former employees say he had his fingers in everything, from operations to making decisions about the salaries of individual employees. Not surprisingly, some of them worried about his health.
In January 2014, Pearson said he had set what he described as "an aspirational target" for Valeant to become one of the top five pharmaceutical companies within two years. That would require even more ambitious acquisitions. Soon after, he met with Ackman, Pershing Square's founder, to talk about teaming up on deals. "They mentioned like 10 or 12 different companies," Ackman would later say in a deposition. On April 22, 2014, Pearson and Ackman announced they were making a $46 billion hostile bid for Allergan, the Irvine, Calif., company that makes Botox. The two men unveiled their plan to investors during a flashy presentation in Manhattan. "For our shareholders that are here today, I want to reassure you that Valeant still worries about every penny," Pearson said. "This whole production is all being paid for by Bill Ackman."
Ackman compared Pearson to Buffett and told a funny story about what happened when he asked for a burrito from Chipotle for lunch during a visit to Valeant's office. "Mike's assistant very nicely got me one, and then Mike walked into the conference room and asked me for 20 bucks," Ackman said. "True story. I'm not sure I got the change."
It turned out that in the weeks leading up to the announcement, Ackman had been quietly purchasing Allergan stock. He now owned 9.7 percent of the shares, making him Allergan's largest investor. It's unusual for an activist investor to buy a stake in a target company and then join forces with another company in a hostile takeover bid. It didn't seem to bother either Pearson or Ackman, but it bothered others. Two large public employee pension funds subsequently accused Pershing Square and Valeant of engaging in insider trading in an ongoing lawsuit. The companies deny the allegations.
Allergan CEO David Pyott fought back, raising questions about Valeant's business model. Allergan argued that Valeant's growth was largely coming from what it described as "unsustainable price increases" rather than sales volume. The company also castigated Valeant for slashing its R&D spending and relying on its foreign tax status to do deals.
In the end, Pyott had to adopt some of Pearson's methods, cutting 1,500 employees, which helped push Allergan's stock price up, making it harder for Valeant to acquire the company. In November 2014, Pyott sold Allergan to Actavis, a drugmaker headquartered in tax-friendly Ireland, which offered $219 a share—$19 more than Valeant's final bid. Actavis was able to offer more in part because of its domicile in Ireland, where the corporate tax rate is 12.5 percent. A former Valeant executive says he and other managers feared Valeant's stock price would tumble when the news was announced because it had been counting on the Allergan acquisition to fuel growth. Investors showed they still believed in Pearson, however, and Valeant's shares continued to rise.
Other pharmaceutical companies were watching Valeant closely and copying Pearson's approach. Companies such as Endo Pharmaceuticals and Mallinckrodt Pharmaceuticals were investing less in R&D and focusing more on takeovers. In 2013, Endo hired Rajiv De Silva, Valeant's former president, to be its CEO. Allergan had criticized Valeant for raising the prices of its drugs, but other pharmaceuticals were doing the same thing. As long as Valeant's stock price continued to soar, it seemed to make no difference.
In June 2014, Duke President Richard Brodhead announced that the school had received an "extraordinary" gift of $30 million from Pearson and his wife. Brodhead said the donation wouldn't be used to construct a building or endow a professorship, but to "reimagine how training in the sciences, technology, engineering, and math can be integrated with, and enriched by, the liberal arts curriculum."
What the university didn't mention—if it knew—was that Pearson was making this gift with borrowed money. Two months earlier, Pearson had pledged 2 million of his Valeant shares as collateral for a loan from Goldman Sachs. At the time, it seemed like a riskless decision for the investment bank.
In March 2015 he negotiated the $11 billion purchase of Salix Pharmaceuticals, a Durham, N.C., maker of diarrhea and irritable bowel syndrome treatments. It was his biggest deal yet, and Pearson promised to eliminate $500 million in costs in the integration of Salix and Valeant. According to the Senate report, Valeant planned to fire 420 of Salix's 977 full-time U.S. employees.
Soon after, Pearson was swept up in the storm created by Turing Pharmaceuticals, a small privately held company run at the time by Martin Shkreli, a former hedge fund manager-turned-pharma company executive. Turing had bought an old antiparasitic drug and raised the price from $13.50 a pill to $750 overnight, catching the attention of Democratic presidential candidate Hillary Clinton. She vowed to set a minimum R&D spending requirement for drugmakers. Shkreli, an active Twitter user, instantly became one of the most loathed figures on Wall Street and in the pharmaceutical industry, a multimedia celebrity villain. None of it was good for Valeant. If the company couldn't operate with its traditional bare-bones research budget, its business model would unravel.
In late September, 18 Democratic representatives asked the House Oversight and Government Reform Committee to subpoena Valeant for documents related to price hikes. "Valeant is using precisely the same business model as Martin Shkreli," the Democrats wrote. Ultimately, Valeant turned over 75,000 pages of documents showing it had increased the price of more than 22 "U.S. Prescription Products" by more than 200 percent from 2014 to 2015.
A few days after House Democrats requested the subpoenas, news broke about Valeant's relationship with a mail-order pharmacy company called Philidor. Such companies typically manage tricky medications that retail pharmacies like Walgreens or CVS can't handle, such as treatments that need cold storage or must be titrated according to a patient's weight. But Valeant was using Philidor to sell acne and foot-fungus medications. Former Philidor employees say the company engaged in various questionable tactics, including submitting multiple pharmacy identification codes to insurers. They also say Philidor changed some doctor prescription codes so it would appear that physicians or patients had requested Valeant's brand-name drugs rather than less expensive generics. Philidor denies any wrongdoing.
On Oct. 21, short-seller Andrew Left, who runs Citron Research, published a report alleging that Valeant had used Philidor to book "phantom revenues" and compared it to Enron. It turned out that Left didn't have much proof. But it didn't matter. Investors didn't want any more surprises from Valeant.
Later that month, Pearson said Valeant was terminating its relationship with Philidor. A few days later, Goldman Sachs sold almost 1.3 million of the shares Pearson had pledged to secure the $30 million contribution to Duke. His shares were still worth more than the debt they secured, but apparently Goldman Sachs didn't want to take any chances.
Pearson continued working long days, flying around the country in search of deals, meeting doctors whom he needed to keep prescribing Valeant products, and trying to figure out how to handle the political fallout from price increases.
But the stress was clearly getting to him. In late December, Valeant said Pearson had severe pneumonia and that he would be taking a medical leave. The company declined to say any more, out of respect for his family.
An eerie silence seemed to engulf Valeant. The company said little. Reaching people for interviews was difficult even by the normally challenging standards of reporting on companies in trouble. Some people wondered if Pearson's sudden departure was a way for him to make a graceful exit. Others questioned whether the company could survive without him. Pearson had been involved in everything at Valeant. The man and the business were one. How could anybody replace him?
The Valeant board, so far, hasn't been able to answer that question, so Pearson returns. But the company and the landscape have changed. Valeant's share price has plummeted to almost $60. Its debt may be downgraded. Clinton has gone after the company's "predatory pricing" in a campaign ad, promising: "We're going to make sure this is stopped." This kind of pressure may make it impossible to raise drug prices anymore, at least not at the rate he once used to supercharge Valeant's earnings. Pearson is now in the strange position of having to reinvent a company he reinvented.
Before it's here, it's on the Bloomberg Terminal.
LEARN MORE