U.K. Tory Rift Widens as Osborne Attacks Anti-EU Colleagues
by
Says Brexit backers can't answer `most basic questions'

Close to half Tory lawmakers support leaving European Union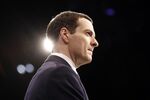 Chancellor of the Exchequer George Osborne is set to attack the arguments of colleagues in his Conservative Party who are pushing for Britain to leave the European Union and risk increasing division over the issue.
The chancellor will urge businesses to back EU membership when he speaks to them alongside his German counterpart Wolfgang Schaeuble at the British Chambers of Commerce annual conference in London on Thursday.

"Those who want Britain to leave have not been able to answer the most basic questions about how businesses would retain access to that single market and all the jobs and benefits it brings," Osborne will say, according to his office.
The attack highlights the threat facing the Tory Party that the battle before the June 23 referendum creates rifts that are impossible to heal afterward. Close to half the party's members of Parliament are backing a so-called Brexit, putting them in opposition to their leader, Prime Minister David Cameron.
Justice Minister Dominic Raab on Wednesday accused the campaign to keep Britain inside the EU of "scaremongering" after Cameron's office published the third in a series of documents warning of the dangers of leaving. Pensions Secretary Iain Duncan Smith described it as a "dodgy dossier."
"In the last few days, we've had confusion heaped on confusion from those who want to leave the EU," Osborne is due to say. "Between them, they appear to have ruled out all the other arrangements that exist in the world and claim there would be some sort of other deal, without being able to specify any of the basic details."
BCC Director General John Longworth will refuse to take sides in the debate when he speaks at the conference, but will say businesses face "a tough choice."
"The people of our country now face a choice, between staying in what is essentially an unreformed European Union, with the euro zone moving off in another direction and with Britain sitting on the margins, or leaving the European Union, with all the near-term uncertainty and disruption that this will cause," he will say, according to extracts released in advance. "Undoubtedly a tough choice. You might say, a choice between the devil and the deep blue sea."
Before it's here, it's on the Bloomberg Terminal.
LEARN MORE