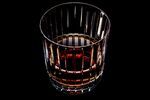 16-Year-Old A.H. Hirsch

The only matter of debate around the 16-year-old A.H. Hirsch ($3,000; 818 761-5373) is whether it's the greatest bourbon ever or merely world-class. The silky-smooth, oaky spirit was distilled in 1974 via copper pot stills at the now-defunct Michter's Distillery in Schaefferstown, Pa., which had been making whiskey since the 1750s. It's almost extinct except on the secondary market, so if you find a bottle, get it.
50-Year Old Bowmore

The last 200 bottles of 50-year-old Bowmore ($27,000; 888 992-5597) are hitting the market this year. Distilled in December 1961, it's a smoky single-malt Scotch that's been maturing for more than half a century in hogshead casks on the shores of Loch Indaal, inside Islay's oldest distillery.
20-Year-Old Yoichi

If you want the peaty quality of Scotch without the bourbon burn, the 20-year-old Yoichi ($1,200; dekanta.com) is the most treasured whisky in the vaults of Nikka, founded in 1934 by the father of Japanese whisky, Masataka Taketsuru. Its synthesis of single malts gives off a rich, malty flavor, while its delicate finish has notes of caramel and campfire.
Yamazaki Sherry Cask

Instead of charred white oak, the Yamazaki Sherry Cask ($300; 212 674-7500) has been aged in Spanish sherry casks, including rare strains 25 years old, giving it the taste of spicy sun-dried tomatoes. Jim Murray's Whisky Bible named the 2013 version as 2015's best, so expect the latest edition to be in high demand; only 5,000 bottles will be released.
Before it's here, it's on the Bloomberg Terminal.
LEARN MORE