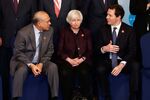 Why can't the Group of 20 large economies agree on a plan to lift world growth? According to a working paper released in January by Harvard University Kennedy School of Government economist Jeffrey Frankel, different sets of nations don't just disagree on solutions; they even disagree on what game is being played. "When two players sit down at the board, they are unlikely to have a satisfactory game if one of them thinks they are playing checkers and the other thinks they are playing chess," Frankel wrote in the paper, titled "International Coordination."
Frankel's framework helps explain what happened when G-20 finance ministers and central bankers met in Shanghai on Feb. 26-27. While reiterating their commitment to avoid currency wars, the leaders came away without an agreement to stimulate global growth through coordinated government spending, such as stepped-up infrastructure investment. "Investor hopes of coordinated policy actions proved to be pure fantasy," David Loevinger, a former China specialist at the U.S. Department of the Treasury and now an analyst at fund manager TCW Group, said after the meeting. "It's every country for themselves."
The International Monetary Fund and the U.S. went to Shanghai believing the world is suffering from a shortfall in demand that can be cured with a short-term, coordinated burst of stimulus. "They should go bold, they should go broad, and they should go together," IMF Managing Director Christine Lagarde said. "Together" is the key word in her sentence. (Frankel called coordinated stimulus a "locomotive game" in his January paper.)
If a single country, such as China, tries to stimulate growth while others don't, much of its stimulus will tend to leak abroad, benefiting other countries. That's because a portion of the money Chinese households get from stimulus will be spent on imported goods. Leakage isn't a problem if all countries stimulate at once, Maurice Obstfeld, the IMF's chief economist, said at the U.S. Monetary Policy Forum in New York on Feb. 26.
But other countries, including Germany and Britain, arrived in Shanghai believing that stimulus is ineffective and the real risk is that governments will be tempted to overborrow, pushing up interest rates for everyone else. If so, rather than spending more, the public-spirited thing to do is spend less and flush excesses out of the system. "The debt-financed growth model has reached its limits," German Minister of Finance Wolfgang Schäuble said at an event in Shanghai before the formal meeting. If the stimulus continues, he said, "we'll be the walking dead." Frankel—who wrote his paper before the Shanghai meeting but was familiar with the nations' leanings—said countries such as Germany are playing what he calls a "discipline" game. "Germany's view is that it is doing everyone a favor by exercising as much budgetary discipline as it is," he wrote.
With its economic growth slowing, China is stepping up fiscal stimulus via increased public spending, a widening budget deficit, and a $489 billion debt-refinancing plan for local governments. China would benefit if other countries also stoked demand, which would help its exports. Yet the host nation didn't try to get other countries to play a locomotive game. "China's leadership style is cautious and consensus-oriented," says John Kirton, co-director and founder of the G-20 Research Group at the University of Toronto; its leaders didn't want to take sides in a chess-vs.-checkers debate. This is what can happen at an economic summit when delegates show up with radically different views of the world. Wrote Frankel: "If different countries have fundamentally different models [of the world economy] in mind, the officials might not even be able to carry on a coherent discussion of the potential gains from coordination and how to achieve them."
The bottom line: The finance ministers of the G-20 meeting in Shanghai couldn't even agree on the objective they should pursue.
Before it's here, it's on the Bloomberg Terminal.
LEARN MORE