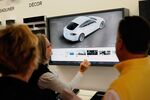 "We need your help," Tesla wrote in a Feb. 19 e-mail to its customers in Indiana. The state legislature was about to move forward with a bill that would have forced the electric-car maker to find a franchisee to operate its one showroom in the state, setting a precedent that would make it harder for Tesla to open others elsewhere. The company claimed the legislation reflected the interests and influence of one rival: General Motors. "Don't let GM tell you that your only option is to buy a car from a traditional franchised dealer by shutting out Tesla," the e-mail continued. Tesla asked recipients to contact their lawmakers.
The company's rallying cry worked. On Feb. 25, the Indiana Senate committee considering the bill decided to drop the amendment that would have forced Tesla to adopt the dealership model. But the brawl in Indianapolis opened a new front in the cold war between Tesla, which leads the battery-powered-car market, and GM, which plans to introduce its electric Chevy Bolt late this year. Tesla is also preparing its first mass-market car, the Model 3, expected in late 2017. Both vehicles will go more than 200 miles on a single charge, and both are slated to cost less than $40,000 before government incentives—dramatically expanding the market of potential buyers.
One advantage Tesla holds over a legacy behemoth like GM: the way it sells cars. Tesla, which based its retail operation on Apple's, sells directly to customers. Rather than go to a dealership to haggle over models on the lot, people who want a Tesla can place their order online or visit one of the company-owned showrooms that have popped up in malls and high-end retail strips in more than 2o states and Washington, D.C.

That's radically different from the approach taken by old-line automakers, which sell vehicles through franchised dealership networks that evolved a century ago. "You hear this from consumers all of the time, that they want a choice in how they buy their products, including the option of dealing directly with the person selling it to you—the manufacturer," says Daniel Crane, a University of Michigan law professor who specializes in antitrust and regulatory issues. "The last thing GM wants to see is an upstart company like Tesla come along, never get encumbered with an inefficient dealer-distribution system, and basically be able to leapfrog GM competitively." GM has about 4,900 franchise dealers in North America. The company is prohibited from selling directly to customers almost everywhere in the U.S. because of contracts with those dealerships and state laws protecting the franchises from factory competition.
Over the past few years, GM and state automobile dealer associations across the country have been trying to close loopholes to make it harder for Tesla to do business on their turf. In 2014, Michigan banned California-based Tesla from opening stores or showrooms in the state. Republican Governor Rick Snyder signed the bill a month after a Massachusetts state appeals court issued a ruling in Tesla's favor. Car dealers there had sued to force the company to close its showroom in the Boston suburb of Natick. In the court's ruling, Justice Margot Botsford pointed out that legislation preventing car manufacturers from selling to the public was "aimed primarily at protecting motor vehicle dealers from injury caused by the unfair business practices of manufacturers and distributors with which they are associated, generally in a franchise relationship"—not at heading off competition from other carmakers. The Federal Trade Commission echoed that logic when it called on Michigan to repeal its ban on Tesla stores in a May letter. "Current provisions operate as a special protection for dealers—a protection that is likely harming both competition and consumers," the commission wrote.
In 2015, 17 bills were filed in 10 states concerning Tesla's way of doing business, according to the National Conference of State Legislatures. Several were backed by Tesla, including a successful initiative to allow direct sales in Georgia. A similar effort in Connecticut failed.
Indiana's bill, introduced in January, sought to turn Tesla's own actions against the company. In 2013, as part of a deal allowing Tesla a license to operate a showroom in Northern Virginia, the carmaker agreed to turn the store over after 30 months if a qualified dealer applied to run it. The loophole allowed Tesla, which has consistently asserted that franchise dealers selling gas-powered cars have an inherent conflict of interest when it comes to marketing electric vehicles, entree to the wealthy Washington suburbs. GM, seeing an opportunity to hold Tesla to its word elsewhere, applauded Indiana's attempt to force the company to observe the 30-month dealer-handoff arrangement. "Competition in a fair market only works when the same set of rules are applied to all participants," Jason Wetzel, a regional manager of public policy for GM, testified at a Jan. 27 hearing in Indianapolis. "That's what our bill would do."
After the anti-Tesla language was removed from the bill, GM spokesman Chris Meagher said in a statement that the company wasn't done fighting. "We will continue to work on this issue in Indiana and nationally, and will continue to express our concern anywhere we find market participants are operating under different rules."
A Tesla spokesman said in an e-mail that the company welcomes further hearings in Indiana, "where we will be able to fully air the issues of vehicle sales and consumer choice in an open and public forum." One ally, Republican Representative Curt Nisly, who derided the proposed legislation as a "kill Tesla" bill, agreed: "We should be welcoming Tesla to the state of Indiana, not chasing them out."
The bottom line: Tesla won a lobbying fight in Indiana to keep open its store there despite opposition from GM and auto dealers.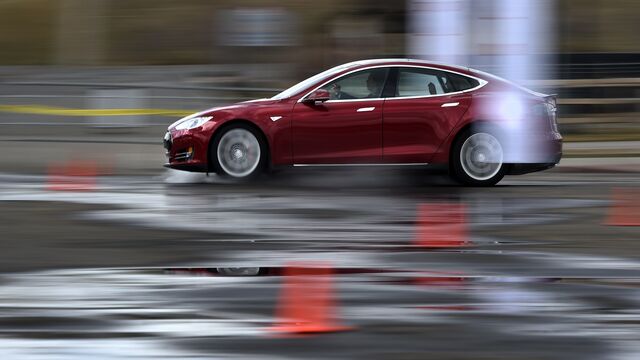 Before it's here, it's on the Bloomberg Terminal.
LEARN MORE