Socialist Weathers Rajoy Vitriol to Seize Spanish Center
by and
Parliament must choose a premier by May 2 to avoid new ballot

Socialist leader gets second crack at confidence vote Friday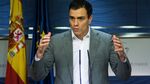 Socialist leader Pedro Sanchez may have taken a small step toward ending Spain's political deadlock on Wednesday, as he weathered attacks from all sides to consolidate his position in the political center ground.
Though he lost a confidence vote in parliament, Sanchez's willingness to make concessions and forge alliances will probably play better with voters than the vitriol he faced from caretaker Prime Minister Mariano Rajoy and anti-austerity firebrand Pablo Iglesias, according to two analysts with ties to the premier's party.

"Public opinion tends to reward moderation and those trying to find solutions," Gabriel Elorriaga, a former lawmaker for Rajoy's People's Party who left parliament last year, said in a telephone interview. "If there is an impact it would strengthen those joining the agreement rather than those who appear to be hesitating to cooperate."
Ten weeks after an inconclusive general-election result, Sanchez is betting that his attempts to find a way out of the impasse will win him credit with voters and pressurize Rajoy and Iglesias to drop their opposition to his proposals. Lawmakers voted 219 to 130 against Sanchez on Wednesday night and will vote for a second time on Friday.
The spread between Spain's 10-year yields and similarly dated German paper has crept wider since December's vote, though it's far from the levels that prompted the 2012 bank bailout. On Thursday, the spread increased by 2 basis points to 139.
Defending Sanchez's record, Socialist deputy leader, Cesar Luena, said the party would stick to its strategy for Friday's vote, where a plurality -- more votes in favor than against -- will suffice. Podemos is calling on the party to ditch Ciudadanos and lead a progressive coalition.
"We are going to focus on what unites us, not what divides us," Luena said in an interview on Telecinco television. "Those who are just interested in their personal survival will have a problem with the Socialist Party, we're up for the general interest."
Sanchez is due to meet his advisers later Thursday. Rajoy plans to call the Socialist leader after Friday's vote, his party no. 2, Dolores de Cospedal, told Telecinco.
Rajoy's Attack
While Sanchez failed to add to the votes of his Socialist group and Ciudadanos, his pro-market ally, he set out the case for compromise and dialogue, in contrast to his main opponents. Rajoy mocked his efforts to broker a settlement as a "comedy" and a "farce" saying only the PP has a mandate to govern because the 123 seats it won in December's election makes it the biggest party in the legislature.

Iglesias, who leads the third-biggest group, Podemos, raked up Spain's historic divisions. He reminded the PP of its ties to the dictatorship of General Francisco Franco while dragging up the Socialist government's involvement in the assassination of ETA terrorists by the security forces in the 1980s, to jeers from the Socialist ranks.
"On the left, Sanchez is the one who looked like a prime minister," said Narciso Michavilla, chairman of pollster GAD3, which has conducted research for Rajoy's party. "Sanchez is a telegenic candidate."
The Long Game
Sixty-five percent of respondents said that they would blame politicians for refusing to compromise if the country goes to new elections, according to a Metroscopia survey this month.
"Iglesias's speech was probably more brilliant than Sanchez's but that's not what the public is looking for," said Juan Jesus Gonzalez, a Sociology professor at UNED university in Madrid. "People are looking for politicians who can broker agreements."
All four major parties signaled said they are already looking beyond Friday's vote and plan to renew efforts to broker a settlement next week. Those negotiations will be shaped by any shifts in public opinion after this week's political drama with Metroscopia and GAD3 both planning fresh polls from Monday to gauge voters' reactions.
"The debate has shown that Sanchez will be at the center of the talks to come," said Lluis Orriols, a political scientist at Madrid's Carlos III University. "Sanchez and Rivera both focused their speeches more on the coming talks than presenting a proper plan for governing."
Before it's here, it's on the Bloomberg Terminal.
LEARN MORE