Ruble Shockwaves Mean Longer Wait Until Disinflation Sets In
by
February's annual inflation eased more than forecast to 8.1%

Price growth set to quicken next quarter after ruble weakness
Don't expect the good optics of Russian disinflation to last long.
While price growth eased in February to the slowest since September 2014, the shockwaves of the ruble's collapse earlier this year are set to catch up with the six-month deceleration. UniCredit SpA, Promsvyazbank PJSC and Gazprombank OJSC say inflation will end the second quarter in double digits before a deeper slowdown sets in. The annual consumer-price index slipped to 8.1 percent from 9.8 percent in January, the Federal Statistics Service in Moscow said Friday. The median of 15 estimates in a Bloomberg survey was for a drop to 8.4 percent.
Resisting the pull of a weaker ruble is a challenge as businesses and consumers continue to adjust to the record devaluation in January. For the central bank, which is struggling to rein in inflation expectations with the economy in recession, that means a longer wait before it can resume monetary easing halted since July.
"Even though inflation is falling, most of it is a base effect because this time last year inflation was rising very sharply," said Liza Ermolenko, a London-based analyst at Capital Economics Ltd. who predicts price growth at 11 percent at the end of the third quarter. "We don't think this will trigger a marked shift in tone from the central bank or interest-rate cuts."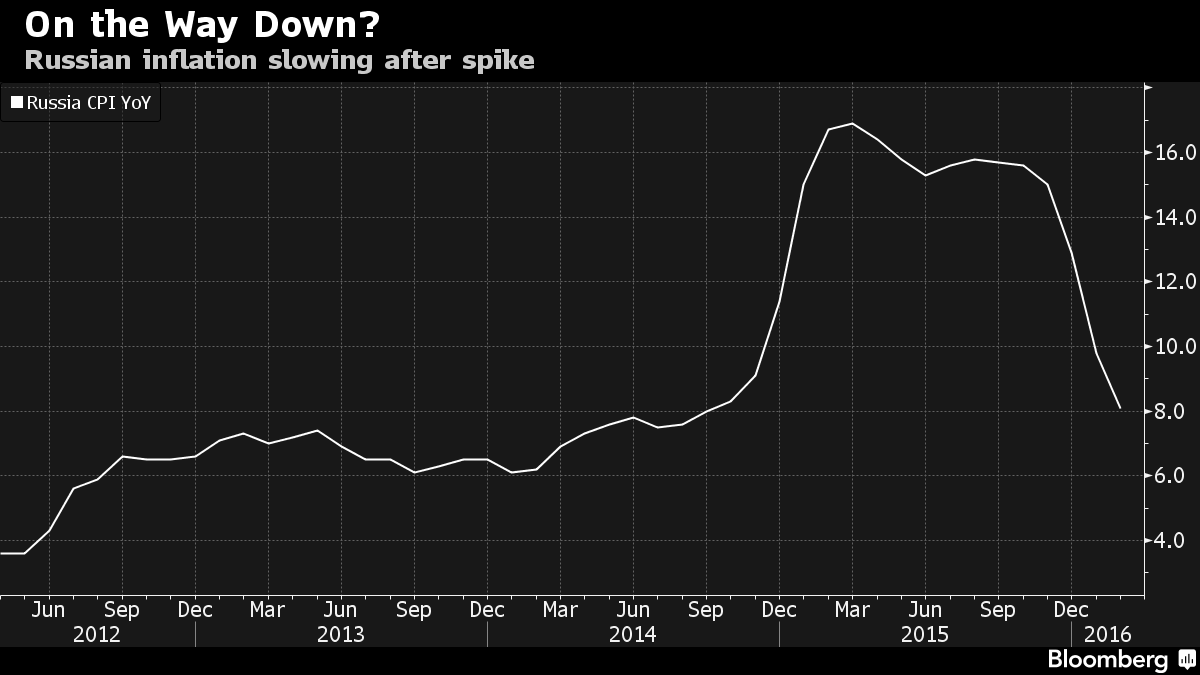 Easing Wagers
Derivatives traders are pricing in monetary loosening ahead. Forward-rate agreements are signaling 44 basis points in rate cuts during the next three months, the biggest wagers this year for a reduction in borrowing costs. The central bank next reviews rates on March 18.
The Bank of Russia, which kept its key rate at 11 percent for a fourth consecutive meeting in January, has conceded that price growth may "deviate" from its 4 percent goal in late 2017 after turmoil in the oil market and the ruble. Still, a pickup in inflation next quarter won't keep it from slipping below 7 percent as early as next January, according to the central bank. Economy Minister Alexei Ulyukayev is equally upbeat, saying an annual rate of as low as 7 percent is realistic already this year and predicting it at about 8.3 percent to 8.4 percent in February.
The ruble has stabilized after touching a record intraday low against the dollar on Jan. 21, staging the world's biggest rally since then with a 13 percent gain versus the U.S. currency.
Ruble Impact
The central bank's research and forecasting department estimates the ruble's weakness in December-January weakness will contribute about 1.3 percentage points to inflation in the first quarter, while Deputy Finance Minister Maxim Oreshkin puts its cumulative impact this year at 2.5 percentage points.
As consumers increasingly look for cheaper shopping options amid fast inflation and falling incomes, the world's biggest yogurt maker Danone has responded by increasing prices to "protect" its profit margins, according to Bernard Ducros, head of the French company's unit in Russia.
Higher input prices led Russian service providers to raise their average tariffs during February, pushing the rate of inflation to a five-month high, according to a survey of the industry by Markit Economics. Among manufacturers, the pace of input price inflation was "sharp" in February as output costs continued to grow, Markit said.
"I can hardly point to any demand-side inflationary pressure, given the weakness of the economy and the partial wage freeze," Viktor Szabo, who helps manage $11 billion of emerging-market debt for Aberdeen Asset Management Plc in London, said by e-mail. "With oil prices and hence the ruble stabilizing, one should expect a faster pace of disinflation."
Before it's here, it's on the Bloomberg Terminal.
LEARN MORE