Najib Hails Malaysia-Saudi Ties Amid $681 Million Funds Scandal
by
Najib makes his second visit this year to Saudi Arabia

Questions linger on $681 million donation to Najib in 2013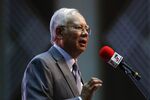 Malaysian Prime Minister Najib Razak praised Saudi Arabia in a visit overshadowed by a scandal over a $681 million "personal" donation from the Saudi royal family.
The countries are "inseparable partners" in the war against Islamic extremism and terrorism, Najib said during a four-day trip to the Middle Eastern kingdom that ends Thursday. It's his second visit in two months.
He was expected to meet King Salman, Crown Prince Muhammad bin Nayef and Deputy Crown Prince Mohammed bin Salman while there, according to a foreign ministry statement issued on Monday.
"I would like to personally thank the Saudi Arabian royal family for their support over the decades," Najib said in a Facebook post late Wednesday. "We will always appreciate it and not likely to forget it. We in Malaysia are fortunate to have constant and trusted friends."
Saudi Arabia is one of Malaysia's largest trading partners in the Middle East, with trade between the countries valued at about 11 billion ringgit ($2.6 billion) last year, according to Malaysian government statistics.
Najib is facing his biggest political crisis since coming to power seven years ago as questions linger over the funds which appeared in his personal accounts before the 2013 general election. Attorney General Mohamed Apandi Ali in January closed the door on a graft probe, clearing Najib of wrongdoing over the "personal contribution" and saying the premier later returned $620 million that was not utilized. 
The Wall Street Journal reported Tuesday that Najib received more than $1 billion in his bank accounts between 2011 and 2013 -- more than the previously known $681 million. It cited two people it didn't identify. 
Investigators in two countries believe the $681 million originated from troubled state investment company 1Malaysia Development Bhd., rather than a Saudi donation, the paper said. The Malaysian government reiterated Tuesday the funds were from Saudi and "verified by multiple lawful authorities who conducted exhaustive investigations."
Before it's here, it's on the Bloomberg Terminal.
LEARN MORE