Morgan Stanley: Stephen Curry Is the Key Risk to Our Bearish Call on Under Armour
by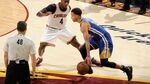 Basketball's hottest star could single-handedly save shares of Under Armour Inc. from a dramatic decline, in the view of Morgan Stanley Analyst Jay Sole.
Among analysts tracked by Bloomberg, Sole is the only one with an "underperform" rating on shares of Under Armour. His target price is $64, which represents a downside of roughly 24 percent from Wednesday's close.
Sole contends that the company is trading at a loftier valuation than other high-growth retailers. The analyst projects that same-store sales were likely negative in the fourth quarter and notes that the average selling price for footwear has declined by much more than the industry average over the past two years, two elements of his five-point bear thesis.
Sole acknowledges, however, that the hardcourt's king of three-pointers may completely overwhelm his five-point case.
The key risk he cites to his bearish call is the performance of Under Armour's U.S. basketball shoe business, which is headlined by kicks endorsed by Brand Ambassador Stephen Curry, point guard for the reigning National Basketball Association Champion Golden State Warriors and reigning league Most Valuable Player.
Curry, the marquee player on Golden State's first-place team, will certainly shatter the record for three-pointers he set last season and is considered to be a near shoo-in to repeat as league MVP.
His line of shoes also happens to be flying off the shelves:

"UA's U.S. basketball shoe sales have increased over 350 percent year-to-date," writes Sole. "Its Stephen Curry signature shoe business is already bigger than those of LeBron, Kobe, and every other player except Michael Jordan."
The analyst suggests that Under Armour's strong growth in basketball footwear sales might be a sign that the company is prioritizing volume over price, or more ominously, "could be a tipping point signaling the end of Nike's basketball dominance."
If this is the case, "our call might [be] wrong no matter what UA does in women's apparel or running footwear," concludes Sole. "This will be especially true if the Curry effect is so strong, he puts a halo over the entire brand which benefits its apparel and running footwear businesses."
This bull case, which Sole dubs "Spicy Curry," would see shares rise to $127.50, according to the analyst.
Before it's here, it's on the Bloomberg Terminal.
LEARN MORE