business
Martin Crowe, New Zealand Cricket Captain in 1990s, Dies
By
Tributes flow after New Zealand's finest batsman dies aged 53

``One of the most stylish and elegant'' players of his era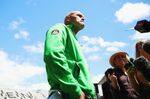 Martin Crowe, the former New Zealand cricket captain widely regarded as the country's best-ever batsman, has died. He was 53.
Crowe revealed in December 2014 that the blood cancer he was diagnosed with in 2012 had returned. He died peacefully Thursday in Auckland surrounded by family, according to a family statement reported by New Zealand media.
Crowe, a cousin of Hollywood actor Russell Crowe, scored more centuries for New Zealand than any other batsman. Through his poise and elegance on the pitch, he emerged as one of the world's top-rated players in the 1980s, when he and fast bowler Richard Hadlee were central to the success of the New Zealand team.
Renowned for his cover drives and swivel-hipped pull-shots, Crowe went on to captain the national side from 1990 to 1994, leading the team at the 1992 World Cup, where he scored the most runs and was named player of the tournament.

Ranked among the International Cricket Council's top five batsmen from 1987 to 1992, Crowe scored 299 runs in one innings against Sri Lanka in 1991, setting a New Zealand test record that stood until Brendon McCullum broke it in 2014.
'Vulture Pecking'
"I never forgave myself for getting out for 299 against Sri Lanka," Crowe wrote in a 2014 article for ESPN cricinfo. "Not a week would go by when I wouldn't be reminded of the one run I craved so much. It tore at me like a vulture pecking dead flesh."
In 77 test matches, Crowe scored 5,444 runs at an average of 45, reaching 100 on 17 occasions. He played for New Zealand from 1982 to 1995, when a knee injury forced him to retire prematurely from the sport, at age 33.
Crowe was "a thinker" who used his intelligence to get the most out of his natural talent, according to former teammate Martin Snedden.
"It was his ability to work out how best to use that talent to nullify the opposition," Snedden wrote in a testimonial on Crowe's website. "I watched him do this when he took on and triumphed over possibly the most fearsome fast bowling attack in history, the West Indies. Then he did the same when faced with a completely different challenge, spin in Asia."
Early Life
Martin David Crowe was born on Sept. 22, 1962, in Auckland. He had a brother, Jeff, who also went on to play cricket for New Zealand and become captain of the national team.
From 1976 to 1980, Crowe attended Auckland Grammar School, renowned for producing more All Black rugby players than any other New Zealand school.
After making his test debut at age 19, he was quickly labeled the finest young batsman in the world, according to ESPN. Crowe played during an era that featured some of the best fast bowlers in history, including Dennis Lillee and Jeff Thomson of Australia, Wasim Akram of Pakistan, and Joel Garner, Michael Holding and Malcolm Marshall of the West Indies.
Crowe was inducted into the International Cricket Council's Hall of Fame in February 2015, the third New Zealander to receive the honor. Crowe was "one of the most stylish and elegant batsmen of his generation," the ICC said in a statement at the time.
'Greatest Batsman'
New Zealand Cricket said it was "deeply saddened at the passing of our country's greatest batsman," while Prime Minister John Key expressed condolences to the family of "one of New Zealand's greatest sportsmen."
"He was a world-class athlete whose exploits on the pitch endeared him to cricket fans around the world," Key said in a statement.
In his autobiography "Raw" published in 2013, Crowe said that sporting success at a young age stunted his emotional development and contributed to his illness.
"I was in the spotlight in a small country, where showing emotion isn't always easily accepted or understood, so I kept it all within," he wrote. "That wasn't healthy."
Crowe is survived by wife Lorraine Downes, daughter Emma and two stepchildren.
(
Updates with Prime Minister's comment in 14th paragraph.
)
Before it's here, it's on the Bloomberg Terminal.
LEARN MORE