Kaplan Says Fed Must Be Patient in Removing Policy Accommodation
by
Dallas Fed chief urges officials stay open minded on rate path

China spillovers increasingly affect U.S. economic outlook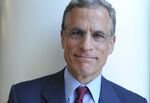 Federal Reserve Bank of Dallas President Robert Kaplan said policy makers shouldn't rush interest-rate increases as they gauge the spillovers from weaker global growth and tighter financial conditions on the outlook for the U.S. economy.
"While I believe that excessive accommodation carries a cost in terms of distortions and imbalances in hiring, asset allocation and investment decisions, I also believe that, at this juncture, the Fed needs to show patience in decisions to remove accommodation," Kaplan said Thursday in the text of a speech in Austin, Texas. "This is particularly true in light of key global secular trends as well as recent developments relating to slowing global economic growth and tightening financial conditions."
Fed officials will meet on March 15-16 to discuss whether the U.S. economy is strong enough to withstand tighter monetary policy. Since policy makers raised interest rates in December for the first time in almost a decade, and forecast four quarter-point hikes this year, slowing global growth, uncertainty around China's economic prospects and turmoil in financial markets has cast clouds over that outlook. Investors see only an 8 percent probability the Fed will act again this month.
While "China's economic challenges have the potential to create negative spillovers that impact economic conditions in the U.S. as well as other economies," growth "will likely be resilient in 2016," Kaplan said. The services sector continues to be the primary driver of U.S. economic expansion, he said.
"The Fed should avoid having a predetermined mindset regarding the path of policy," Kaplan said. The tightening of financial conditions observed since the beginning of the year "is likely to have had a restraining impact on the underlying pace of economic activity akin to some level of increase in the fed funds rate," he said, adding that "at this juncture, monetary policy remains accommodative."
Before it's here, it's on the Bloomberg Terminal.
LEARN MORE