business
India's Love Affair With Gold Tested as Tax Fight Spurs Shutdown
By
Stores shuttered nationwide to protest plan for excise duty

Dispute pits Modi government against nation's jewelry trade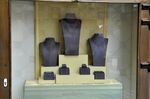 India's thriving gold markets have gone strangely quiet. Shops are shuttered across the world's largest consumer after China and would-be customers are getting frustrated in a country that adores bullion.
QuickTake The Rise and Fall of Gold
"I will have to wait and see when the shops open next," said Ghevar Jain, who stepped out in Mumbai this week to buy 200,000 rupees ($2,970) worth of jewelry for weddings next month. Instead, he had to return empty-handed as stores in the Zaveri Bazaar weren't trading. "I didn't know about the strike."
Jain had walked into a dispute that erupted this week between the nation's thousands of jewelers and Prime Minister Narendra Modi. Intent on boosting revenue as he reshapes Asia's third-largest economy, Modi wants to impose a 1 percent excise duty on jewelry produced and sold within the country, and Finance Minister Arun Jaitley announced the move in the budget on Monday. By Wednesday, members of the All India Gems & Jewellery Trade Federation, which represents jewelers nationwide, had started a three-day stoppage.
A similar shutdown in 2012, when jewelers closed for three weeks, was successful in getting the-then Manmohan Singh government to drop plans for an excise duty. A record current-account deficit and slump in the rupee to an all-time low in 2013 subsequently prompted the government to raise import taxes to 10 percent. In the run-up to this year's budget, jewelers had been hopeful of cut in the import tax. Instead, Jaitley announced the excise duty.
No Hurry
"I don't think the government will be in a hurry to roll back the excise tax as it will be blocking a source of revenue," Harish Galipelli, head of commodities and currencies at Inditrade Derivatives & Commodities Ltd., said from Hyderabad. "There is a new government this time around compared to 2012 and it is more keen in diverting funds into boosting economic activities."
The shuttering of shops by jewelers this week is driving away Indian consumers at a time when offtake remains weak after a surge in prices. Spot gold in London has rallied 17 percent this year to $1,240.41 an ounce, outperforming other commodities on a resurgence in haven demand.
Bachhraj Bamalwa, a director at the All India Gems & Jewellery Trade Federation, said the group is now urging the administration to increase the import tax further, rather than go ahead with the introduction of the excise duty. India buys almost of the bullion it consumes from abroad.
Less Cumbersome
"If the government's intention is to collect revenue from the industry, we are asking them to increase the import tax instead of an excise duty and imposing one more compliance department on us," Bamalwa said by phone from Kolkata. While the import tax is stoking smuggling, it would be less cumbersome than the excise tax on the operations of local manufacturers, he said.
The India Bullion and Jewellers Association Ltd., a second industry group, says it too would prefer an increase in the import tax rather than an excise duty, arguing that would generate more revenue for the government while at the same time protecting manufacturers. A new 1 percent excise tax would bring in 16.5 billion rupees, while an equivalent rise in the import duty would earn 21.25 billion rupees, the group said.
The planned duty will make purchases more expensive for buyers and lead to irregular business practices, according to P.R. Somasundaram, managing director for India at the World Gold Council. Excise will put a compliance burden on the industry, which has already been weighed down by the import tax and a value-added tax, he said. India's net imports of bullion were 897.5 metric tons in 2015 and consumption was 848.9 tons, according to the council.
While the two trade groups will be approaching the Finance Minister Jaitley over the next few days to appeal for the removal of the excise duty, they've both said that the shutdown could be extended if they don't get what they want. Jain, the disappointed shopper, may have some time to wait before he too can get what he wants.
(
Updates price in sixth paragraph.
)
Before it's here, it's on the Bloomberg Terminal.
LEARN MORE