U.S. Stocks Rise to Build on 8-Week High Before Payrolls Report
By
Energy companies in S&P 500 rally to erase 2016 decline

Investors 'positioning' before February jobs report Friday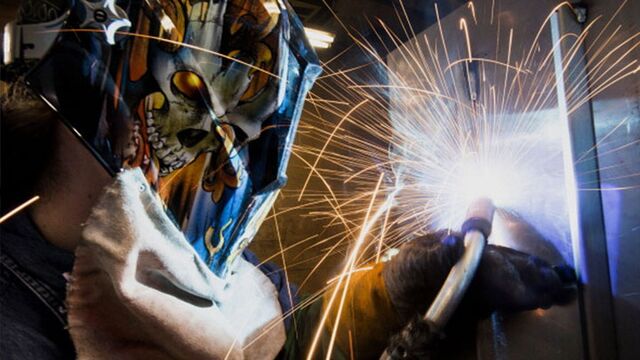 U.S. stocks rose, led by gains in energy shares to extend a three-week rally before Friday's payrolls report that may provide a clearer picture on the economy's health and path for interest rates.
Energy producers in the Standard & Poor's 500 Index erased 2016 declines as a rally in the group helped equities shake off earlier weakness for a second day. Banks also gained momentum in the afternoon, rising for the fifth time in six days. Health-care and technology shares struggled, with Microsoft Corp. losing 1.1 percent. Kroger Co. sank 7 percent after the grocer forecast slower growth this year.
The S&P 500 rose 0.4 percent to 1,993.40 at 4 p.m. in New York, erasing a 0.5 percent drop to remain at an eight-week high. The gauge gained for a third straight day for just the second time this year. The Dow Jones Industrial Average advanced 44.58 points, or 0.3 percent, to 16,943.90, and the Nasdaq Composite Index increased 0.1 percent. The Russell 2000 Index of small caps added 1 percent to rise for a third day. About 8.8 billion shares traded hands on U.S. exchanges, in line with the 2016 average.
"Investors are clearing the decks ahead of tomorrow's jobs report," said Alan Gayle, senior strategist for Atlanta-based Ridgeworth Investments, which has about $42.5 billion. "Anything that moves in the direction of the Fed's game plan of four rate hikes this year will be a real market-mover. A big gain in tomorrow's jobs report would definitely put a near-term hike back on the table."

Investors are watching economic reports as central-bank meetings approach, with the government's monthly nonfarm payroll figures looming large tomorrow. Data today showed growth in service industries slowed for a fourth straight month in February. A separate gauge showed factory orders in January rose less than expected, while the number of claims for unemployment benefits remained consistent with a steady labor market.
The S&P 500 has jumped 9 percent from a 22-month low reached in February, though the gains have come amid the weakest volume in 2016, signaling a lack of conviction in the rally. The benchmark has trimmed its 2016 decline to 2.5 percent as banks, consumer and technology companies have bolstered the comeback, and it's on track for a third straight weekly gain of more than 1.5 percent for the first time since 2009.
Bridgewater's Dalio
Bridgewater Associates' Ray Dalio said he expects low returns, slow growth and more volatility in the U.S. in an interview on Bloomberg Television. "I'm not bearish on stocks," he said from Austin, where he is attending a conference hosted by the University of Texas Management Co. Global stocks will likely return about 4 percent in the long term and the average investor shouldn't bet against active investors, Dalio said.
With improvement in recent data, coupled with the rebound in equities, traders have lifted their bets on higher borrowing costs this year. While they're pricing in a less than one-in-10 chance of a rate increase at the end of the Federal Reserve's next meeting on March 16, the probability of a boost by June is 35 percent, up from 24 percent a week ago. Odds for a December move stand at nearly 64 percent compared to 36 percent last week.
As the earnings season draws to a close, about three-quarters of S&P 500 companies have beaten profit projections, while less than half have topped sales forecasts. Analysts estimate earnings at S&P 500 companies fell 3.7 percent in the fourth quarter, compared with Jan. 15 predictions for a 7 percent slump, and predict profits will drop 8.0 percent in the first quarter.
Volatility Sinks
The Chicago Board Options Exchange Volatility Index fell 2.3 percent Thursday to 16.70, holding at the lowest level since Dec. 29. The measure of market turbulence known as the VIX has dropped 41 percent since reaching a five-month high on Feb. 11.
Eight of the S&P 500's 10 main industries rose, led by energy and financial shares. Health-care companies declined 0.4 percent, falling for the first time in three days, while technology stocks were little changed, nearly erasing a morning 0.8 percent slide.
Energy companies in the S&P 500 increased 1.3 percent, wiping out a loss for the year as crude oil continued to show signs of stabilizing, closing near the highest since Jan. 5. The group extended its three-day rally to 6.1 percent. ConocoPhillips and Apache Corp. paced gains, rising more than 5.6 percent.
Chesapeake Energy Corp. surged 26 percent and capped the biggest two-day increase in its history after U.S. federal prosecutors rewarded the natural gas driller with immunity from prosecution in an antitrust case against its former CEO Aubrey McClendon.
Builders Rally
Homebuilders were among the best performers Thursday, with an S&P industry index up for the ninth time in 10 sessions, rising 1.6 percent to bring its advance since the February low to 19 percent. Lennar Corp. and D.R. Horton Inc. increased more than 1.9 percent.
Biotechnology shares were the worst performers within the health-care group, as the Nasdaq Biotechnology Index slid 1.4 percent. Biogen Inc. and Vertex Pharmaceuticals Inc. declined more than 1.8 percent. Large drug makers were also under pressure, with Eli Lilly & Co. losing 1 percent, while Baxalta Inc. fell 1.5 percent.
Among other companies moving on corporate news, Herbalife Ltd. dropped 7 percent, the most in almost five months after saying it overstated the growth of its customer and distributor base, bringing another headache to a company facing a federal investigation into whether it's a pyramid scheme.
Costco Wholesale Corp. slipped 0.8 percent, paring a 3.5 percent retreat, after quarterly earnings trailed analysts' estimates as higher-income shoppers show signs of curtailing spending. The shares declined for the first time in four days.