Ex-Deutsche Bank Broker Admits `Misleading' U.K. Regulators
by
Dodgson says nerves, drinking may have influenced answers

He is one of five men on trial for insider trading in London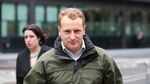 A former Deutsche Bank AG managing director at the center of the U.K.'s biggest insider trading case said nerves, and the aftermath of a night of drinking, resulted in his misleading answers to police and regulators during his initial questioning in 2010.
Martyn Dodgson, one of five men on trial in London, said he was worried about the effect of his arrest on his career and family. That led him to give "a misleading impression" to regulators "as to the nature of the relationship" with an accountant who is a co-defendant in the case and their participation in spread betting.
The trial is the culmination of a probe that started with a series of dawn arrests in 2010. Prosecutors from the Financial Conduct Authority say the men traded tips that helped them make 7.4 million pounds ($10.5 million) in profits trading six stocks, including Sky Plc and Legal & General Group Plc.
"I understood exactly what was being presented to me in relation to the allegation," Dodgson told the court Thursday during his fourth day of testimony. "The combination of being out late and drinking combined with the shock and fear of what my wife and family were going through, I suspect, made me act with the maximum amount of defensiveness."
Protect Himself
Dodgson said that he again failed to clarify the relationship between himself and the accountant, Andrew Hind, at a number of other police interviews to "protect himself." Earlier in the week, Dodgson said he originally met Hind at a bachelor party that he had "no recollection of."
"I think once my employment contract had been terminated and my financial and personal situation had deteriorated I had taken the decision that I would not assist and provide any information" to regulators, he said. Dodgson ultimately divorced his wife in 2014.
"It amounts to lying, doesn't it," Mark Ellison, the lead prosecutor, said Thursday. Dodgson denied he was lying.
Allegations
The FCA alleges Dodgson, Andrew "Grant" Harrison, a former stockbroker at Panmure Gordon & Co., Benjamin Anderson, a 71-year-old private day trader, former Aria Capital Ltd. director Iraj Parvizi, and Hind, 55, worked together to trade securities with inside information between November 2006 and March 2010. The FCA claims Dodgson and Harrison passed price-sensitive information from their jobs in the corporate-broking departments of big firms to Hind, who then passed it to Anderson and Parvizi to trade on.
Dodgson repeatedly denied over the course of his testimony that he ever handed over inside information to Hind. Over a 3-1/2 year period, Dodgson made a profit of 236,000 pounds from the trades Hind carried out on his behalf, Dodgson said.
All of the men deny the charges.
In an interview with the regulators, Dodgson "went on a long description about how dreadful" his life had become, and how he'd "lost everything" he'd ever worked for,  Ellison said. The trading "created a dire risk for you," he said.
"I think that's correct," Dodgson responded.
Food Stash
Hind "was concerned that the risk of an insider benefiting from trading might be misconstrued as inside trading," Dodgson said.
"Unfortunately, that did not prevent the risk from occurring," Dodgson said, agreeing that the trading activity was a breach of his employment contract.
Hind and Dodgson remain close friends to this day, Dodgson said, describing him as "impressive."
"Hind was a details man," Ellison said. "Just the sort of person you might use to put together the structure you worked under."
"I would not have been able to participate had it not been this way," Dodgson said.
Hind started storing food at the onset of the financial crisis in case of "civil unrest," according to his attorney, William Boyce. He also built an "armory" of spears, hockey sticks and baseball bats to protect the stash, Boyce said.
"I was hopeful that no such outcome would ever present itself in the U.K.," Dodgson said.
Before it's here, it's on the Bloomberg Terminal.
LEARN MORE