Evercore's Altman Says There Is `Growing Terror' on Trump's Rise
by
Roger Altman was deputy Treasury secretary to Clinton

He says business community is beginning to be scared of Trump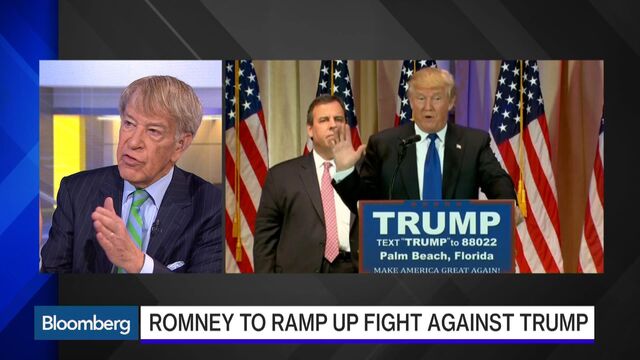 Roger Altman, the investment banker who was deputy Treasury secretary in President Bill Clinton's administration, said Donald Trump's ascent is spurring a "growing terror" among Republican leaders who fear that his candidacy would drain support from the party's Congressional candidates.
"Trump's rise is terrifying a lot of the Republican establishment, to the extent that there is one, and, by the way, beginning to scare, a little bit, the business community," Altman, the chairman of Evercore Partners Inc., said in a televised interview with David Westin and Stephanie Ruhle.
The real estate mogul solidified his lead this week among Republicans seeking the party's presidential nomination when he scored more victories than Senators Ted Cruz and Marco Rubio in Super Tuesday contests. Trump has gained attention by mocking Republicans such as Senator John McCain and former President George W. Bush while highlighting a get-tough message on immigration, a stance that some party leaders fear could alienate Hispanic and moderate voters.
Mitt Romney, the 2012 Republican presidential nominee, will lash out at Trump later Thursday by calling the billionaire a phony and a fraud, according to a transcript provided to Bloomberg News by a person familiar with his prepared remarks. Romney, who built a fortune after co-founding Boston-based private-equity firm Bain Capital, will also say that Trump's domestic policies could drive the country into a recession.
Romney Versus Trump
Trump responded to Romney's impending speech on Twitter by saying: "Failed candidate Mitt Romney, who ran one of the worst races in presidential history, is working with the establishment to bury a big 'R' win!"
Altman, a supporter of Democrat Hillary Clinton, said a Trump candidacy may echo that of Barry Goldwater, the Republican who lost by an overwhelming margin against Lyndon Johnson in 1964.
"There's a growing view that Trump could suffer a catastrophic defeat in the general election," Altman said. "Republicans fear that it's one thing to lose the White House, or have it stay in Democratic hands. It's another thing to have massive down-ballot losses. That is the galvanizing thing motivating people like Romney."
Before it's here, it's on the Bloomberg Terminal.
LEARN MORE