Corbyn Confronts U.K. Business Chiefs With Call for Bank Reform
by
Labour leader attacks finance as an `extractive industry'

Corbyn speaks after Stiglitz urges tighter financial rules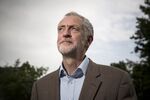 Jeremy Corbyn will use his first public speech to a business audience since becoming leader of Britain's opposition Labour Party to call for reform of the banking sector.
In an address to the British Chambers of Commerce conference in London on Thursday, Corbyn will promise more government investment in "science, technology and the green industries of the future." He will say too much economic focus has been placed on the finance sector and call for government stakes in Royal Bank of Scotland Group Plc and other institutions to be used to "drive lending and investment."
"The banking sector has to be reformed," the Labour leader will say, according to extracts of the speech released by his office. "Finance must support the economy, not be an end in itself, and certainly not an extractive industry that looks at consumers, entrepreneurs and small businesses as a cash cow."
Corbyn is facing criticism that Labour has lurched to the far left since he was elected leader in September in the wake of Labour's general-election defeat. His speech comes the day after Nobel prize-winning economist Joseph Stiglitz, one of the party's economic advisers, said banks are making excess profits due to weak regulation and that tighter rules are needed.
Market Manipulation
Speaking in London on Wednesday alongside John McDonnell, Labour's economy spokesman, Stiglitz said financial institutions owed much of their wealth to market manipulation, a lack of transparency and government bailouts.
Asked if, when he attacked inequality, he made a distinction between the "deserving" and "undeserving" rich, Stiglitz replied: "in effect, yes."
"Students of mine who have gone into the financial sector, some of them are very bright," the Columbia University professor said. "But many of them, these are not geniuses. The reason they're doing so well behind their Bloomberg screens is a whole area of market imperfections."
Stiglitz argued that if governments want to tackle inequality, they need to accept that the economic consensus of the last three decades has failed to enrich society as a whole, instead simply seeing a few people at the top benefit.
Before it's here, it's on the Bloomberg Terminal.
LEARN MORE