Gold No Longer Glitters in Canada's Official Treasure Chest
Greg Quinn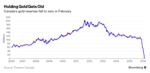 Canada is among the largest gold producers in the world, but as of last month the government valued its official holdings of the precious metal at zero.
The country sold off 21,851 ounces of gold coins in February, the Finance Department said Thursday in a disclosure of its official international reserves. A footnote in the report said the government still has 77 ounces of the precious metal.
Asset valuations are rounded to the nearest $1 million in the official international reserves, so the value of the remaining gold was set at zero, department spokesman David Barnabe said by e-mail.
Canada's gold reserves peaked in 1965, when it held as much as $1,150,000,000 in bullion and coins. In 1980, the government began selling its gold "at a gradual and controlled pace" to enhance returns, with the proceeds invested in interest-bearing foreign currency assets, according to the finance department website.
The last bullion was sold by December 2003. The remaining high quality coins were sold off by January 2014, Barnabe said.
All that remained were "lower-quality King George V $5 and $10 gold coins dated 1912, 1913 or 1914, which contained imperfections from handling or environmental conditions," Barnabe said. They were melted off into gold bullion and are being sold off "at market prices."
(Updates with historical comparison from 4th paragraph.)
Before it's here, it's on the Bloomberg Terminal.
LEARN MORE