Bridgewater's Ray Dalio Says 'I'm Not Bearish on Stocks'
by
Dalio sees global stocks rising about 4% in the long-term

Hedge fund founder doesn't see another crisis like 2008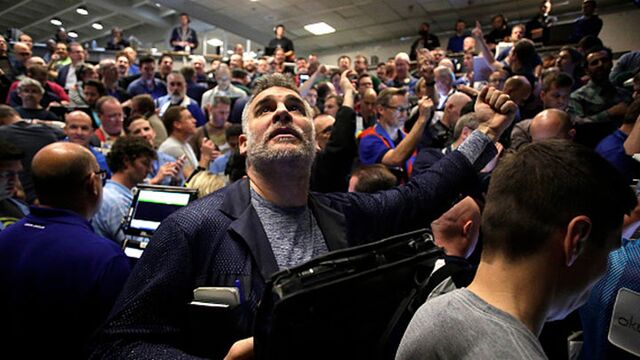 Ray Dalio, the head of the world's largest hedge fund, said investors should expect low returns and volatile financial markets, but not another financial crisis like the one in 2008.
"I'm not bearish on stocks," Dalio said in an interview Thursday with Bloomberg Television's Erik Schatzker from Austin, where he's attending a conference hosted by the University of Texas Investment Management Co. "I'm not expecting something like 2008 because 2008 was a debt crisis."
While there are "asymmetric" risks to the downside, asset prices will correct to a point where risk premiums return and investors come back, said Dalio, who predicted that equities will probably return about 4 percent in the long term. The issue, he said, is whether the slowdown in markets will have negative repercussions for the economy at a time when central bank policy is becoming less effective.
Global equities have been whipsawed this year as a slowdown in the Chinese economy fueled the biggest retreat in raw materials prices since 2008 just as the Federal Reserve ended its zero interest-rate policy. Fed policy makers debating their outlook for interest rates in January expressed concern that the fall in commodity prices and the rout in financial markets increasingly pose risks to the U.S. economy. Fed Chair Janet Yellen has suggested that the central bank could delay its plans for tighter policy to assess how the economy reacts to current headwinds.
Dalio, whose firm Bridgewater Associates oversees $154 billion from Westport, Connecticut, said the Fed could raise interest rates by another 25 basis points, but such a move would be a "serious mistake."
'Next Big Move'
"The next big move I believe will have to be toward quantitative easing, rather than a big tightening," he said in the interview. The recent developments have surprised the Fed, because it is not paying enough attention to the long-term debt cycle, he said.
Dalio has warned for some time that the economy is at the end of a long-term debt cycle, characterized by a lack of spending despite interest rates near zero or even negative. As lower interest rates and quantitative easing become less efficient in stimulating growth, Dalio said the next step will be to encourage spending directly. That step, he said, could take various forms, from monetizing government debt to sending cash directly to consumers.
"If you look around the world, our risk is not inflation and our risk is not overheating economies," he said.
Dalio said China, which is experiencing a debt problem, will be forced to restructure its economy and focus on new industries while shedding old ones. He said he's confident Chinese leaders are more capable of restructuring debts than they were in handling volatility in the stock market.
"China is having a heart transplant," he said. "You probably are going to be fine in the long run. It's probably going to weaken you and it has to be well executed."
Before it's here, it's on the Bloomberg Terminal.
LEARN MORE