Alaska's Biotech Sugar Daddy Is Showering Money on Startups
Inside the $50 billion Alaska Permanent Fund.
By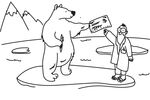 Alaska's economic eminence stems from the discovery of oil on the North Slope in the 1960s. But its more recent crown as a biotech sugar daddy started in March 2013 with a chance meeting on a flight from Boston to Seattle. David Fallace, then head of special opportunities for the Alaska Permanent Fund, the agency that manages the state's massive oil wealth, was boarding a plane when he met Larry Corey, who then led the Fred Hutchinson Cancer Research Center. The pair talked so much about Corey's research into using the immune system to fight cancer that a flight attendant had to insist they stop blocking the aisle and go back to their seats. The discussion resulted in Alaska that year initiating what ultimately became a $129 million investment for about 25 percent of the company Corey started, Juno Therapeutics. The stake is now worth $1.04 billion.
With a $50 billion fund willing to sit on illiquid investments for years, Alaska sees patience as a competitive advantage in making long-term bets on the drug industry, says Stephen Moseley, who succeeded Fallace in January. "When I worked on my first biotech deal in the '90s, this old industry sage said to me, 'You know, Moseley, it's called the life sciences because it takes a lifetime to get your money back,' " he recalls. "Liquidity is a risk, but it's one that's identifiable and ironically kind of attractive to us" because the lack of liquidity is rewarded with the opportunity for higher returns.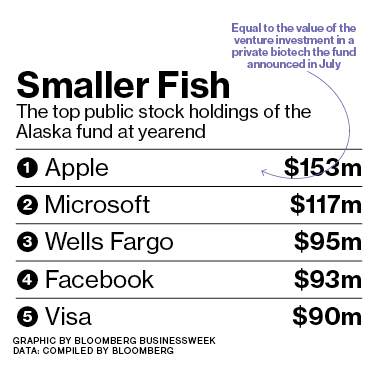 Alaska has poured more than $280 million into three biotech startups, huge bets in a field where the average venture capital investment is less than $15 million. The state's stake in Seattle-based Juno is worth more than its holdings of Apple. The fund's top three investments were all identified by its venture wing. "The significance of their activity in terms of overall commitments is not common at all in the biotech business," says Bruce Booth, a partner at venture firm Atlas Venture, who's talked with the fund about potential deals.
Last July the fund said it had invested $153 million in Denali Therapeutics, a company targeting Alzheimer's disease. And in November it was among the few firms behind an $80 million financing of Codiak BioSciences, which is looking to send tiny sacs the body makes through the bloodstream to help diagnose and treat some cancers. Although none of the three biotechs are based in the state, Alaska made sure they recognize their Last Frontier tie—they're named for the state's capital (Juneau), its local brown bear (the Kodiak), and its tallest peak (Denali).
The state says the biotechs happily adopted Alaskan names when they got funding. "It's not a coincidence that these names surfaced, but it's not an investment priority," Moseley says.
Hans Bishop, Juno's chief executive officer, says the biotech's interaction with the Alaska fund is similar to that of its other big investors—except that Alaska inspired the company's name, which is that of a Roman goddess but also alludes to the state's capital. "The company was originally incorporated as FC Therapeutics, 'f' being a four-letter Anglo-Saxon word and 'c' being cancer," Bishop says. "It's a really, really motivating guiding call for all of us. But we realized we thought it was a superb name, but it probably wasn't without its limitations."
Juno is working to genetically reprogram immune cells to fight cancer, removing T cells and then changing them to recognize and kill tumors. High cure rates in small trials have impressed doctors and attracted a $1 billion investment from Celgene.
The Alaska fund's administrators say they were confident about making such big bets in a notoriously boom-and-bust industry because they worked closely with biotech specialist Arch Venture Partners and had the deals vetted by outside experts. And they say it's all about making money for Alaska. "It's not our job or expectation that we'll create some Kendall Square in Juneau, Alaska," Moseley says, referring to the biotech hub in Cambridge, Mass.
Nonetheless, Juno's value has fallen about 9 percent since the beginning of the year, part of the roller-coaster ride for biotech stock valuations this year. "If you took all the dollars we've invested in life sciences companies and all those that are contemplated over the next couple years," Moseley says, "it's still less than half the current capital gain on that one deal, Juno."
That performance hasn't gone unnoticed by politicians, who rely on oil for as much as 90 percent of state revenue. Since the recent cratering in crude prices, Governor Bill Walker wants to tap the fund for billions to offset budget shortfalls.
The bottom line: The state fund that manages Alaska's oil wealth invested $129 million in Juno Therapeutics. The stake is now worth $1 billion.
Before it's here, it's on the Bloomberg Terminal.
LEARN MORE