Drinks
Whisky Fund Investors Are About to Toast Their First Dividend
By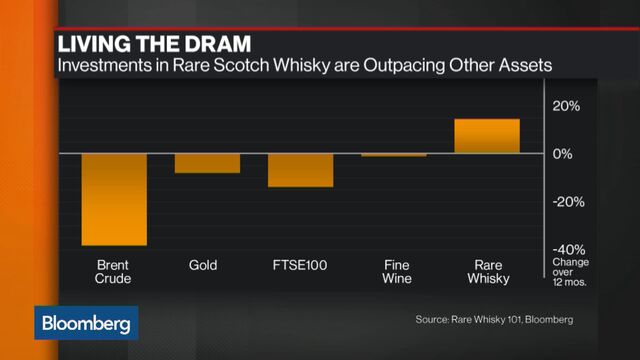 The Platinum Whisky Investment Fund, which was launched in Hong Kong in June 2014, is preparing to pay its first dividend, according to chief executive officer Rickesh Kishnani.
The aim of the fund, which the managers say is the first of its kind, is to provide an annual return of up to 17 percent by benefiting from rising prices for old and rare single malt whiskies. The managers buy malts with a view to selling them at a profit as the value increases over the remaining years of the fund's seven-year lifespan, with the proceeds being returned to investors. Thirty-seven people have stakes in the fund.
Its collection includes a single bottle of a special-edition 60-year-old malt from the Macallan distillery in Scotland that is valued at $200,000.
"In the worst case, if we can't sell some of the whisky, then the 37 of us are going to have a damn good party," said investor Ted Hodgkinson, a Hong Kong-based businessman.
Sales of part of the collection have already begun, and the proceeds will be used to pay the first dividend.
"We hope to announce the dividend in the next three months, we're looking at 5 to 10 percent," said Kishnani. "Our target return for our investors is 15 percent to 17 percent net per year."
So far, $9 million of the $10 million capital-raising target has been achieved, and about $6 million has been spent on more than 7,000 bottles. Valuations of the collection are carried out by an independent agent every six months.
The most recent assessment took place on January 1, at which point more than $4.4 million had been spent on 7,861 bottles — a further $1.5 million has been deployed since then. The collection was valued at more than $5.6 million, an increase of around 26 percent.

Chief investment officer David Robertson, a former master distiller at the Macallan distillery in Scotland, is responsible for acquiring whisky. So far all the bottles have been bought from private collectors — the managers do not buy at auction.
"We don't buy any contemporary bottles, we don't see the value in that, we'd rather concentrate on old and rare malts," Robertson said.
The fund is registered in the Cayman Islands and administered by SinoPac Solutions and Services Ltd. Investors pay an annual 1.5 percent management fee, a further 1 percent to cover storage and other costs, and a 20 percent performance fee on the profits from sales.
Most of the investors live in Hong Kong, although there are some in Singapore, Taiwan and the U.S. The minimum investment is US$250,000, though this requirement has been waived in a few cases. Hodgkinson already had a range of conventional investments when he bought into the fund in September 2014.
"It was a diversification element, getting away from stocks and so on, but the other point was that this has much less volatility than the stock market," he said. "We're looking at effectively a seven-year play with a dividend over probably five of these years and an exit out the back. For me that has a much higher degree of certainty than the stock market. If this has a levelling effect then hopefully it takes some of the bumps out of your general investment portfolio."
Kishnani said he hoped to complete the capital-raising this year by attracting new investors and obtaining additional funds from existing ones. Stock purchases should also be complete by the end of the year, by which time he expects that the fund will have purchased between 13,000 and 15,000 bottles.

The oldest item in the collection is a Highland Park from Scotland that was distilled in 1902 and is valued at more than $7,000 per bottle. Another choice Scotch is a Glenfiddich that was distilled in 1937 and spent 64 years aging in a cask before it was bottled — it's valued at $85,000 per bottle. Ninety percent of the bottles are from Scotland and the rest are Japanese.
Prices of single malts at auction have risen strongly in recent years. An index produced by Rare Whisky 101, a company that produces data for collectors and investors, tracks the cost of the best performing 1,000 bottles and shows that prices have more than trebled since 2008. Supply shortages and increasing demand in Asia, particularly from Taiwan, have helped to drive up prices.
However, whisky investors cannot be sure that they will make their money back — Rare Whisky 101 also publishes a negative index that highlights bottles that have fallen in value.
(This story was published in today's edition of Bloomberg Brief: Hedge Funds Asia. For more information on Bloomberg's newsletters, visit BRIEF<GO> or BloombergBriefs.com. )
Before it's here, it's on the Bloomberg Terminal.
LEARN MORE