North Korea Fires Short-Range Projectiles After New UN Sanctions
by and
U.S., China agree on UN resolution in wake of nuclear test

All cargo entering, leaving North Korea to face inspection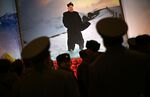 North Korea signaled its defiance over new United Nations sanctions to curb its nuclear ambitions by test firing short-range projectiles in waters off the divided peninsula.
The isolated nation fired a set of projectiles into its eastern waters around 10 a.m. on Thursday in Seoul, about 10 hours after the UN Security Council unanimously approved new sanctions to punish Pyongyang for a nuclear test and rocket launch earlier this year. South Korea's Defense Ministry initially said North Korea had fired missiles, later changing the language to projectiles.
"There is little chance North Korea will give up additional nuclear development and testing over the new sanctions, which may slow it," said Cheong Seong Chang, a senior analyst at the Sejong Institute near Seoul. "There needs to be preparation for the possibility of North Korea raising tensions extremely in protest of the UN Security Council resolution."
The added restrictions limit or ban North Korea's exports of gold, titanium, rare earths and coal, a key source of hard currency for Kim Jong Un's regime, as well as imports of small arms. The resolution also bans financial institutions from opening new branches or accounts in the country, requires inspection of all cargo entering or leaving North Korea, and blacklists a number of North Koreans, including officials active in Iran, Syria and Vietnam.
China's backing for the sanctions was essential because North Korea relies on its neighbor for food, arms and energy. U.S. officials engaged in extensive negotiations with their Chinese counterparts on specific provisions, including language that the sanctions aren't intended to have "adverse humanitarian consequences" for North Korean civilians.
"This resolution levies strong new sanctions aimed at halting Pyongyang's efforts to advance its weapons of mass destruction programs," U.S. President Barack Obama said in a statement after Wednesday's vote. "Today, the international community, speaking with one voice, has sent Pyongyang a simple message: North Korea must abandon these dangerous programs and choose a better path for its people."
Samantha Power, the U.S. ambassador to the UN, cited the economic significance of curbing North Korea's coal exports, which she said bring the country $1 billion a year, or about one-third of its export revenue. Japanese Prime Minister Shinzo Abe and South Korean President Park Geun Hye both welcomed the resolution.
China Stance
"Sanctions are not an end to themselves and Security Council resolutions cannot fundamentally solve problems on the Korean peninsula," Chinese Ambassador Liu Jieyi said. "As a close neighbor to the Korean peninsula, China has always insisted on the overall goal of denuclearization of the the peninsula."
While China has stepped up pressure on Kim's regime to give up its nuclear ambitions, Beijing has historically opposed the harshest sanctions that it fears could precipitate a regime collapse and a flood of refugees across its 870-mile (1,400 kilometer) shared border.
The new resolution shouldn't be interpreted as a "marching order" for further confrontation, and it's wrong to assume China's yes vote means it's taking a "tougher" stance against North Korea, China's official Xinhua News said Thursday in a commentary.

Yet China, which could have vetoed the new UN sanctions, also has opposed a greater U.S. military presence in South Korea. The Feb. 7 rocket launch prompted South Korea's government to agree to discussions with the U.S. about putting the Thaad missile-defense system made by Lockheed Martin Corp. on its soil, a move that prompted protests from China.

"The resolution has real clout because China came round to the view that you need to take strong actions," said George Lopez, a professor of peace studies at the University of Notre Dame and a former UN expert on sanctions against North Korea. "The resolution has a ban on the transfer to North Korea of any item that could directly contribute to the operational capabilities of its armed forces, such as trucks. That was always too far a reach for Russia and China."
Hydrogen Bomb?
North Korea tested what it claimed was its first hydrogen bomb test on Jan. 6 and followed up with the launch of a satellite on a rocket on Feb. 7. Most Western analysts expressed skepticism about whether the nuclear test really was a hydrogen bomb. It was the isolated nation's fourth nuclear test in a decade.
Before it's here, it's on the Bloomberg Terminal.
LEARN MORE