pursuits
UBS's Ermotti Says Negative Rates May Encourage Risky Lending
By
Ermotti speaking in Frankurt ahead of ECB decison next week

ECB monitoring risks of rates hurting banks, Coeure says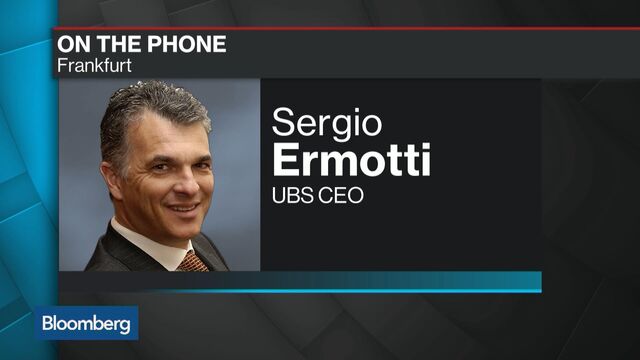 UBS Group AG Chief Executive Officer Sergio Ermotti said negative interest rates are encouraging risky lending practices among some banks, potentially posing a threat to the wider financial system.
"Some banks are over-extending credit at conditions that in my view may also create future potential of risks in the system," Ermotti, 55, said in an interview with Francine Lacqua and Tom Keene on Bloomberg TV on Wednesday. "There are banks that don't know what to do any longer with deposits so everybody is trying to beat each other on pricing, and eventually this is going to lead into a structural deficit."

European banks are seeking ways to shore up earnings as negative interest rates curtail their ability to charge higher interest on loans than they offer to pay on deposits, while undermining appetite from clients seeking to buy or trade derivatives to hedge risks. European Central Bank Governor Mario Draghi is weighing whether to use deeper negative rates, which force banks to pay to deposit funds, to fight against persistently low inflation.
'Adverse Consequences'
Ermotti said risks could emerge in mortgage lending and other real-estate loans, where banks are extending credit to boost revenue. Lenders are also starting to charge fees on services that "used to be subsidized by deposits," the CEO said, calling deposits "de facto a loss-making proposition."
ECB Executive Board member Benoit Coeure said at a conference in Frankfurt, where Ermotti also addressed the audience, that the central bank is monitoring the risks that negative rates will hurt bank profitability.
"We are studying carefully the schemes used in other jurisdictions to mitigate possible adverse consequences for the bank lending channel," he said. "We need to qualify the narrative that banks' challenges flow largely from our monetary policy."
Investors have fully priced in a 10 basis-point cut in the deposit rate to at least minus 0.4 percent at the ECB Governing Council meeting on March 10. In Switzerland, home to UBS and Credit Suisse Group AG, the central bank's deposit rate is at a record low of minus 0.75 percent.
Ermotti said tougher capital requirements are also hurting profitability and forcing lenders to shrink investment-banking operations. At UBS, the securities unit focuses on what "we're good at," he said.
The UBS CEO also dismissed the notion that banks are now similar to utility companies as they face slower growth and more regulation.
"We would love to get the margins of utilities,'' he said. "It would be nice to have utility-like pricing power.''
— With assistance by Jeanna Smialek, and Alessandro Speciale
Before it's here, it's on the Bloomberg Terminal.
LEARN MORE