UK to Start £4.2 Billion Green Bank Sale
By and
Business Secretary Sajid Javid invites bidders to come forward

`Special share' will maintain bank's focus on climate projects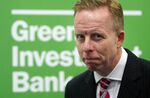 U.K. Business Secretary Sajid Javid said the government is starting an auction to sell U.K. Green Investment Bank Plc in a deal that may value the institution at as much as 4.2 billion pounds ($5.9 billion).
The government will start a bidding process Thursday, seeking to sell 75 percent to 100 percent of the institution, Shaun Kingsbury, chief executive officer of the Green Investment Bank, said in an interview. The deal is due to be complete by the end of the year.
"The Green Investment Bank is a world first, and it is a sign of its success that the idea is being copied globally," Javid said at the Lord Mayor's Trade and Industry Dinner in London on Wednesday night. "Having proven the business model works, we now want it to make an even greater impact."
Privatization would let the bank, which has channeled money into clean energy projects, invest more overseas and in technologies currently restricted by European Union state aid rules. Potential new projects include electric vehicles and power-grid upgrades, Kingsbury said.
Bank Freedom
Javid first announced the sale in July. It required legislation to repeal laws giving ministers control of the institution. The government has said a sale will give the bank the freedom it needs to raise more capital and widen investments in projects that reduce carbon emissions. These include offshore wind farms, efficient street lighting and energy-from-waste plants.
Kingsbury said he's seeking new owners to invest as much as 800 million pounds a year for the the next three years, and that the bank currently manages assets valued at about 1.8 billion pounds. This would take the value of investment required in the bank to about 4.2 billion pounds.
Bidders are asked to submit responses by 10 March, after which they will be provided additional confidential information on the Green Investment Bank, according to a letter issued Thursday by Bank of America Merrill Lynch International Ltd, which is advising the government on the sale.
Special Share
The bank will announce this week three institutions to nominate the holders of a "special share," which ministers established to allay the concerns of environmentalists and lawmakers that privatization would put the bank's carbon-reduction mission at risk.
"We're absolutely not going to lose our green ethos," Kingsbury said. "This money is vital to our plans. Our plan is to do more. People are worried we'll do less."
He said potential investors included U.K. pension funds, insurance funds, commercial banks and sovereign wealth funds. "We've been warming people up for a while and there's a lot of interest because what we do is really interesting," he said.