Lynn Tilton's Patriarch Is Sued by Ex-Employees of Unit
by
Suit seeking class status says company broke NY labor law

Cites a post-shutdown tweet about '700 jobs we saved'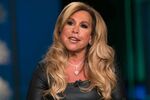 Former employees of Patriarch Partners LLC's TransCare sued the private-equity fund founded by Lynn Tilton, claiming it broke the law when it fired them without cause in a bankruptcy proceeding.
The suit, which was filed in federal court in Manhattan on Wednesday, seeks class-action, or group, status. It says the company violated New York labor law requiring employers to give workers 60 days' written notice of termination and has failed to pay wages and benefits. 
The former employees, who worked as emergency medical technicians, or EMTs, and serviced Manhattan hospitals, say TransCare told its hospital partners and the New York City Fire Department it was in financial trouble months ahead of its filing for bankruptcy court protection on Feb. 24. The next day, TransCare told employees the company was shutting down and they were being immediately terminated, according to the complaint.
Plaintiff Dalibel Garcia says at least 1,200 former employees were affected by the company's closing. She alleges that TransCare "continually communicated" to them that its business prospects were "positive" and hired new EMTs as late as Jan. 24. According to the suit, Tilton sent out a tweet, after the announcement of TransCare's shutdown, about "700 jobs we saved" by splitting off the company's profitable divisions.  
"Patriarch was the employer of TransCare's employees and is liable for the violation" of New York state labor law, the suit says.
Richard White, a spokesman for Patriarch, didn't immediately return a voice-mail message left at his office seeking comment on the suit.
Tilton's Troubles
Separately, Tilton's attempt to dismiss a fraud lawsuit against Patriarch fell short Wednesday as a New York judge allowed part of the case to go forward.
The Securities and Exchange Commission filed a complaint against Tilton, a self-professed billionaire, in March 2015, claiming she overcharged investors on fees collected on $2.5 billion of collateralized loan obligations. She reported the value of the underlying loans as unchanged even though many of the companies had made partial or no interest payments for years, the SEC said.
Tilton answered the SEC's lawsuit two days later by suing the agency, claiming its enforcement action violated her rights, and lost an attempt in June 2015 to halt the proceeding. A federal appeals court in New York in September agreed to halt an SEC hearing until Tilton can fully challenge a lower court's ruling that federal court judges don't have authority to hear her claims that the regulator's process is unconstitutional.
The employees case is Garcia v. Patriarch Partners LLC, 16-cv-1596, U.S. District Court, Southern District of New York (Manhattan).
Before it's here, it's on the Bloomberg Terminal.
LEARN MORE