Seven Lamps That Pull Double Duty
These lamps do more than just let you get work done.
By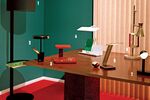 1. Note floor lamp with table by Blu Dot
The built-in side table is perfect for a wallet and keys or today's newspaper and the stiff drink you'll need after you get through it. $599; bludot.com
2. Cup lamp by Paul Loebach for Umbra Shift
It has a dimming knob and a USB port, but let's be honest: That pencil cup is what's most exciting here. $180; umbrashift.com
3. Piani lamp by Ronan & Erwan Bouroullec for Flos
You know when you get home and dump out your pockets all over the place, then can't find anything? There's a better solution, and it involves a tray. $349; usa.flos.com
4. Mail LED table lamp by Emmanuel Gallina for Forestier 
There are three slots—one for bills, one for junk mail, and one for Netflix DVDs, if for some reason you're still sending these back and forth. $1,094; lumens.com
5. Aerelight A1 
The maker claims that, even if you run this OLED light for five hours a day on its brightest setting, it will last at least 10 years without having to be replaced! There's also a charging pad built into the base. $299; citenyc.com
6. Bristol light table easel by Jonathan Adler 
The easel allows for a picture of your family. Point the light at the frame for a gallery effect—or at your work when they've all gone to sleep. $550; jonathanadler.com
7. W152 Busby lamp by Industrial Facility for Wästberg 
Don't let size and simplicity fool you: Three ports each supply 3 amps of power, so devices charge at their fastest rate. $475; thefutureperfect.com
Before it's here, it's on the Bloomberg Terminal.
LEARN MORE