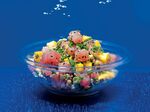 The Makings of the Dish
Albacore Tuna
"In Hawaii, poke (pronounced poh-KAY) is a snack. It's a casual dish," says Seth Cohen, co-owner of Sweetfin Poké in Santa Monica, Calif. His more meal-like version begins with pole-caught South Pacific fish.
Mango
Sourced from Peru, the fruit is cut into small cubes so diners can get fish and fruit in one bite.
Baby Ginger
Slightly sweeter and with less heat than mature ginger, it's grated directly into the bowl to add freshness.
Ponzu-Lime Sauce
Made with soy sauce, fresh lime, mirin, rice vinegar, and a pinch of sugar. Its acidity cuts the fattiness of the fish.
White and Black Sesame Seeds
White seeds taste floral; black seeds have an assertively nutty flavor.
Green Onion
A traditional topper, the greens add color and a pleasant tang.
Hawaiian Sea Salt
The granules are slightly coarser than table salt, adding texture.
Bamboo Rice
Also called jade rice, the grain has a greenish tint that comes from adding chlorophyll-packed bamboo juice in the milling process. It gives the rice a jasmine-tea flavor and a fiber boost.
Macadamia Nuts
Crushed or chopped, the rich, savory Hawaiian nut adds crunch.
Lunch Bait
Four more poke spots to lure you in
Sons of Thunder
New York
Opened in October by brothers from Queens with Hawaiian roots, the restaurant piles its fish on top of a bed of greens and rice.
Big & Little's
Chicago
The local chainlet's new Wicker Park location offers two types of poke tacos—one with ahi tuna and the other with steamed blue crab.
Poké to the Max
Seattle
Chef Sam Choy's food truck serves poke with greens, rice, or in a wrap with slaw. It bucks tradition, but squeamish customers may request their fish cooked.
Hula Girl Bar & Grill
Arlington, Va.
Oahu native Mikala Brennan converted her popular Hawaiian food truck into a restaurant in 2015. She serves three types of poke—ahi, grilled octopus, and salmon—as starters.
Before it's here, it's on the Bloomberg Terminal.
LEARN MORE