Pimco's Jon Short Leaving to Join Zwirn's Arena Hedge Fund
Tracy Alloway and John Gittelsohn
Zwirn's firm lends to companies that can't get bank loans

Short headed Pimco's New York office and wealth management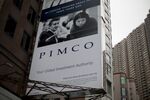 Jon Short, the head of wealth management at Pacific Investment Management Co., is leaving after 10 years to join Dan Zwirn's hedge fund, Arena Investors LP.
Short, 52, will be president at Arena, which specializes in lending to companies that are unable to get bank loans, according to a person familiar with the matter who declined to be named because the information isn't public.
Investors have been pulling money from Pimco since 2013 amid mixed returns for some funds, such as its flagship Total Return Fund, and management upheaval, highlighted by the 2014 departures of then Chief Investment Officers Bill Gross and Mohamed El-Erian. Virginie Maisonneuve left Pimco last year as head of equities, and Wendy Cupps, a managing director who oversaw product management, retired at age 53 in December.
Assets under management at Pimco fell to $1.43 trillion as of Dec. 31, down from $2 trillion in early 2013.
Short, who has spent about three decades in investing, joined Pimco in 2005 after working at Fidelity Investments and Putnam Investments. In addition to overseeing relations with retail and high-net-worth investors, Short was a managing director at the Newport Beach, California-based firm and head of its New York office.
Zwirn is expanding his direct-lending hedge fund through a new partnership struck with Canadian investment firm Westaim Corp. Non-bank lenders, sometimes dubbed shadow banks, have been stepping into a void left by banks with lower risk appetites in the face of more regulations following the financial crisis.
Zwirn's previous suite of hedge funds, offered by D.B. Zwirn & Co., managed more than $12 billion in assets before they shuttered following an accounting scandal. A four-year investigation by the U.S. Securities and Exchange Commission cleared Zwirn of any wrongdoing.
Representatives for Arena and Pimco declined to comment.
Before it's here, it's on the Bloomberg Terminal.
LEARN MORE