Morgan Stanley Smells Opportunity in Emerging-Debt Turning Point
by
Indonesian, Indian bonds favored on prospects for rate cuts

Malaysian notes to see demand when oil rout ends: Jens Nystedt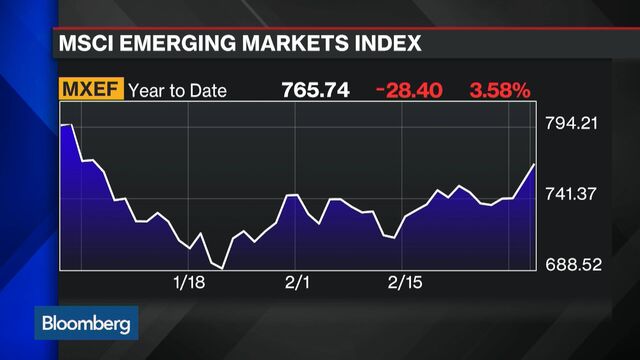 Six months after picking winners in Indonesia's rupiah and Malaysia's ringgit, Morgan Stanley's asset management arm is becoming bullish on the local-currency debt of developing nations.
Morgan Stanley Investment Management expects domestic sovereign bonds to outperform their dollar-denominated counterparts as a likely bottoming out of oil prices in the second quarter boosts demand for higher-yielding assets, said Jens Nystedt, the New York-based portfolio manager of emerging-market debt at the firm that oversees $406 billion. Indonesian and Indian notes offer the highest interest rates among Asia's major economies and are attractive because their central banks have room to cut borrowing costs, he said.
"We're nearing that inflection point where we're looking toward the right time to be overweight" on local-currency debt, Nystedt, who is touring Asia, said in an interview. "We're not necessarily negative on external sovereign debt."

Money managers from BlackRock Inc. to Franklin Templeton have made the case over the past month that valuations in developing nations are too cheap to pass up, others including Societe Generale SA and UBS Group AG warned that declines may have further to go as growth remains weak. Chinese authorities appear to be winning some confidence among investors by stabilizing the yuan and increasing the amount of money available for lending even as the slowdown in the world's second-largest economy shows no signs of abating.
Currency Picks
While China's slowdown remains a "headwind," India and Indonesia are relatively less reliant on exports to their Asian neighbor and will also benefit from government efforts to mitigate economic challenges, according to Morgan Stanley. The rupiah and ringgit have rebounded from 17-year lows to become the best performers among 24 emerging currencies since September, when Nystedt named them his top picks.
Benchmark 10-year local-currency bonds yield 8.14 percent in Indonesia and 7.62 percent in India. That compares with the average yield of 6.23 percent on emerging-market dollar debt, according an index compiled by JPMorgan Chase & Co.
Domestic notes of developing economies have returned 2.6 percent this year in local-currency terms, outpacing the 2.1 percent gain on their dollar debt, JPMorgan indexes show. The extra yield investors demand to hold emerging-market sovereign debt over 10-year U.S. Treasuries is 4.99 percentage points, compared with an average spread of 4.19 percentage points over five years, according to the gauges.
'Significantly Cheap'
"When it comes to emerging-market currencies, we see them as being significantly cheap to fair value in many cases and you're getting a high yield at the same time," Nystedt said. "We're still cautious. We're still looking toward opportunities in those stronger fundamental stories that are commodity importers."
Cheaper oil benefits energy importers such as India and Indonesia, and investors will be more comfortable buying the debt of Malaysia, a net oil exporter, once crude prices bottom out toward the end of the next quarter, according to Nystedt. Indonesian notes continue to be "one of our stronger calls going forward," while Malaysia is close to "fair value," he said. Morgan Stanley also favors Indian bonds.
Brent crude sank to a 12-year low of $27.10 a barrel on Jan. 20, after slumping 35 percent in 2015 and 48 percent in 2014. It has rallied 36 percent since, paring this year's loss to 1.1 percent.
Morgan Stanley's outlook on the rupiah is more positive than for India's rupee as Indonesian authorities, while rebuilding their foreign-exchange reserves, have allowed "a more sizable appreciation" as foreign funds return, Nystedt said. The rupiah advanced 3.8 percent this year, the most in Asia, while the rupee weakened toward a record low amid a selloff in local stocks and bonds.
Indonesia Inflows
Global funds have increased their holdings of Indonesian debt by $2.1 billion this year, adding to last year's purchases of $7.5 billion, and have put $155 million into the nation's equities after withdrawing $1.6 billion in 2015, data compiled by Bloomberg show.
The rupiah has surged 10.3 percent since Sept. 30 and the ringgit has strengthened 5.7 percent in the period, while the rupee weakened 3.1 percent, according to data compiled by Bloomberg. Nystedt had said in an interview with Bloomberg News earlier that month that the rupiah and ringgit were the most attractive emerging-market currencies following a selloff, while the rupee was less so.
"We're still believers in India on the bond side, not as much on the currency side," he said. "We're more neutral there."
Before it's here, it's on the Bloomberg Terminal.
LEARN MORE