Venture Capital
Messaging Startup Slack Seeks Up to $4 Billion Valuation in Funding Round
The company is said to be in talks to raise $150 million to $300 million in financing.
by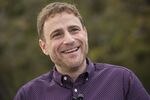 Slack Technologies Inc., which runs a messaging service for businesses, is seeking an investment that would value the company at $3.5 billion to $4 billion, according to people familiar with the matter.
Slack is looking to raise $150 million to $300 million as part of the round, said the people, who asked not to be identified because the terms aren't finalized. The talks are ongoing, and a lead investor has not been selected, the people said.
If successful, Slack's fundraising round would stand out. Venture investment in startups dropped about 30 percent in the fourth quarter compared with the previous one, according to research firm CB Insights. Also during the last three months of the year, 26 percent of mature startups raised money at lower valuations than in earlier rounds, according to a study by law firm Fenwick & West LLP.
Even as startup fundraising shows signs of slowing and valuations begin to tumble, a few companies are pushing ahead. Slack said it raised $160 million less than a year ago, valuing the company at $2.8 billion. It's raised more than $300 million in total and has also used its fundraising clout to create an $80 million venture fund with several of its investors to back Slack-related apps.
"There has always been a great deal of investor interest in the company, and we expect that to continue," a spokeswoman for Slack wrote in an e-mail. She declined to comment on the current fundraising talks. The Wall Street Journal earlier reported that Slack was seeking more than $150 million in an "up" round.
Slack, which launched its current business about two years ago, said it has 2.3 million daily active users, up from 520,000 a year ago. The company also said it had more than $64 million in annual recurring revenue. The metric projects the value of current customers over the course of a year, and the number can differ substantially from actual revenue for fast-growing startups.
Before it's here, it's on the Bloomberg Terminal.
LEARN MORE