Netflix's $5 Billion Budget Is Setting Off an Arms Race in Cable
and
Original shows are a way to stand out amid all the choices

They're also increasing costs at a time of investor worry
Media companies have settled on a strategy to combat declining viewership at their TV networks: spend, spend, spend.
Discovery Communications Inc., Viacom Inc. and Starz have all said in recent weeks that they must spend more on programming. While that's good for viewers, who get to watch an unprecedented number of new TV shows, it's worrisome for investors who have already sent media stocks tumbling over concerns about shrinking TV audiences and slumping advertising sales.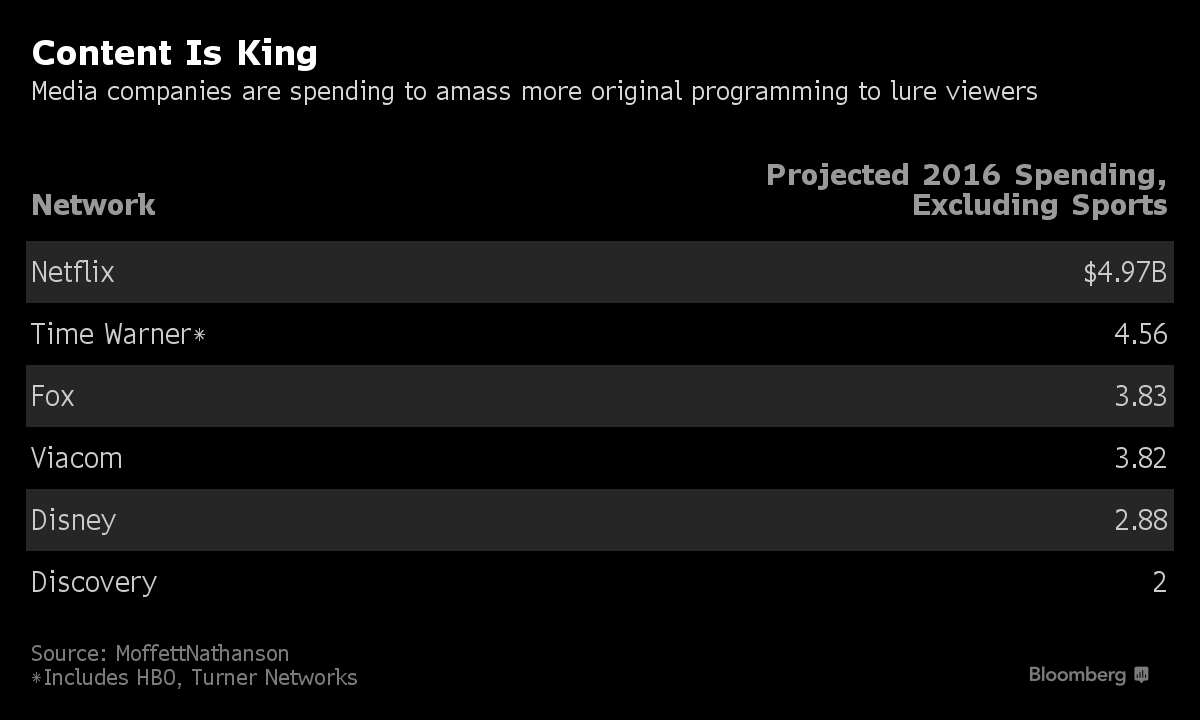 "All these companies have been raising the amount they're spending on programming pretty consistently," said Doug Creutz, an analyst with Cowen & Co. "TV is losing audiences, and you're trying to have new stuff to keep audiences engaged with your programming."
Media executives, speaking on the latest round of earnings calls, say the spending is needed to maintain the supply of new programs that viewers are demanding today, and take advantage of growing markets online and internationally. Netflix Inc., their chief online rival, plans to lay out almost $5 billion on new and vintage films and TV shows this year, more than any network. Amazon.com Inc. and Hulu are also spending heavily.
"We have been planning for years to grow our original programming part of our programming budget in the strong double-digits annually," John Martin, chief executive officer of Time Warner Inc.'s Turner Broadcasting, said at an investor conference in February.
Before Netflix, cable companies could fill their schedules with reruns and cheaper shows and still count on viewers. But with the streaming-video giant churning out a barrage of quality entertainment, from "House of Cards" to "Jessica Jones," it's no longer enough to just offer filler. Old episodes of "Full House" still air on Viacom Inc.'s Nickelodeon, but its updated sequel, "Fuller House," is available for streaming on Netflix.
Discovery Spending
The cost of programming at Discovery's cable networks, other than sports, is growing 55 percent from 2013 to 2016, according to projections from researcher MoffettNathanson LLC, while Viacom's expenses rose more than 25 percent.
Viacom, based in New York, has added an entire new night of original programming at VH1, doubled its capacity for animation at Nickelodeon, and will air more events on networks like BET. Discovery, home to the reality TV hits "Deadliest Catch" and "Gold Rush," has moved into scripted programming and is developing 10 shows with Lions Gate Entertainment Corp.
The Starz premium channel, meanwhile, invested almost $250 million in original programming last year to sustain momentum that began with "Outlander," "Survivor's Remorse" and "Power," the network's most-watched show. The goal for the network, which has added subscribers, is to increase annual production of original shows to 80 to 90 episodes from about 75 last year.
"Our strategy is not just centered around the volume of programming, but also the breadth and appeal of that content," CEO Chris Albrecht said on a Feb. 25 call with analysts.
The result of all that spending was narrower margins at many companies last year, including CBS Corp., Discovery, Walt Disney Co., 21st Century Fox Inc. and Viacom, Todd Juenger, an analyst at Sanford C. Bernstein & Co., wrote Wednesday in a note.
"If you are a TV network executive, you aren't wired to walk into your boss' office and say, 'Revenues are under pressure, here's what I think we should do -- cut back on programming,"' Juenger wrote.
Hits Keep Coming?
Competition is making hits harder to come by. Netflix will spend at least $11 billion over the next five years. Hulu LLC, owned by Fox, Disney and Comcast Corp., is stepping up its original programming with the event series "11/22/63," produced by J.J. Abrams, and film acquisitions like the Sundance Film Festival comedy "Joshy."
That's led John Landgraf, CEO of Fox's FX Networks, to assert there's "too much TV," citing the 400-plus scripted shows he figures were made last year. FX's own big hit in early 2016: "American Crime Story: The People v. O.J. Simpson," a 10-part anthology featuring Cuba Gooding Jr. and John Travolta.
"You can't even count the number of TV shows accurately," he said.
The concern for investors is that the spending, rather than stemming viewer losses or reigniting ad sales, may become a permanent drag on profit. The Standard & Poor's 500 Media Index, a benchmark that includes Viacom and Discovery, has declined 13 percent since early August, when Disney reported on subscriber losses at ESPN and triggered a slump in entertainment stocks.
Catching On
"This is one of the reasons why this industry has performed so poorly the last several months, because people are catching onto this," Creutz said. "There may be margin compression for many years to come."
So far, the spending hasn't led to bigger audiences, according to Nielsen data. Viewership at cable networks in the 18-to-49-year-old age group sought by advertisers is down 5 percent in the current TV season. It's down 6.4 percent for broadcasters.
One bright spot for all of the programmers is that the exploding viewing options are creating opportunities for them too: to sell shows to streaming-video-on-demand services like Netflix and Amazon, to go directly to consumers with their own online services and to market programs internationally. The question is how much those can offset problems in the domestic TV market.
"The world is getting bigger and bigger and better and better," CBS CEO Leslie Moonves said Tuesday at a Morgan Stanley conference in San Francisco. "So you'll see us do more content, but only if we know it's going to be profitable. In most cases, that's the way it is."
Before it's here, it's on the Bloomberg Terminal.
LEARN MORE