Malaysia's Biggest Bank Says Islamic Loans Overtake Conventional
by and
Maybank Shariah unit contributed 51% of Malaysia loans in 2015

CEO says share can increase extra 10 to 20 percentage points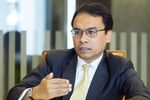 Malayan Banking Bhd. provided more Islamic loans than non-Shariah compliant financing in Malaysia for the first time in 2015 and the business was also more profitable.
Maybank Islamic Bhd. contributed 51 percent of financings by the nation's biggest lender, up from 44 percent in 2014, and a share 10 to 20 percentage points higher is possible, Chief Executive Officer Muzaffar Hisham, said in an interview in Kuala Lumpur on Wednesday. The unit achieved an average 16 percent return on equity in the last four years, compared with 14 percent for its parent.
"There's no doubt it will be challenging but what we have done over the last couple of years surpassed the expectations of the industry," said Muzaffar. Maybank Islamic attracted more customers due to competitive rates and its contributions to zakat, or charity, have also helped it lure business, he said.

The lender's success bodes well for the government's goal of having 40 percent of banking comply with the tenets of the Koran by 2020, up from 26 percent at the end of August. Malaysia, where more than 60 percent of the population is Muslim, pioneered Islamic finance in the 1980s and is the world's biggest issuer of Shariah-compliant bonds.
Augurs Well
"Maybank's achievement augurs well for the Islamic finance industry and there's still growth potential," said Nik Norzrul Thani, chairman of Kuala Lumpur-based law firm Zaid Ibrahim & Co. "It will also spur other lenders, both locally and internationally, to match its returns."
Maybank Islamic's total financing rose 21 percent to 131.1 billion ringgit ($31.7 billion) last year. Growth will probably moderate to less than 10 percent in 2016 due to slowing economic growth and global headwinds, Muzaffar said. Malaysia's economy, which has been hurt by falling commodity prices, will expand 4.4 percent this year, from 5 percent in 2015, according to a Bloomberg survey.
Shariah law forbids the payment of interest and Islamic loans are structured using discounts, sale or lease, profit participation or repurchase agreements.
The bank sold 1 billion ringgit of Basel III compliant sukuk maturing in 2026 last month at a coupon rate of 4.65 percent and the debt yielded 4.95 percent on Thursday, according to prices compiled by Bloomberg. The lender may tap the local Islamic bond market again this year if a "window of opportunity arises," Muzaffar said.
Expanding Industry
Maybank Islamic is the world's third-biggest Shariah lender outside of Iran after Saudi Arabia's Al Rajhi Bank and Kuwait Finance House. The Kuala Lumpur-based bank's profit before tax grew at an average of 18.6 percent in the past five years to 1.64 billion ringgit in 2015. It's the domestic market leader for loans and deposits with respective market shares of 33.5 percent and 26.3 percent.
A global Islamic population that's expanding faster than non-Muslims and becoming more wealthy is driving growth in Shariah-compliant finance. The industry's worldwide assets will double to $3.4 trillion by 2018 from 2013, according to an estimate by Ernst & Young LLP.
"Islamic banking itself is already a bit of a blue ocean that we can tap," Muzaffar said.
Before it's here, it's on the Bloomberg Terminal.
LEARN MORE