Boeing Eyes Comeback in Part of Jetliner Market It Once Ruled
By
Options include price cuts and new designs, Udvar-Hazy says

U.S. planemaker is playing catch-up in the mid-market segment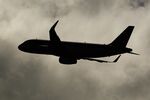 Boeing Co. faces only difficult choices as it decides on a comeback strategy for a part of the jetliner market it once dominated, according to Steven Udvar-Hazy, a lessor and influential aircraft buyer.
The U.S. planemaker underestimated the appeal of Airbus Group SE's A321neo against Boeing's largest narrow-body aircraft, which are variants of the 737, Udvar-Hazy said. The aerospace company's options now include cutting prices and investing in upgrading the largest 737 Max -- possibly as a stopgap while it unveils an all-new airplane that wouldn't debut for another decade.
"Or does Boeing have to resign itself that it may have a market share disparity for a period of years because it doesn't have a head-to-head competitor to the A321neo?" Udvar-Hazy said Tuesday at the Istat annual convention outside Phoenix. "These are questions that involve multibillion-dollar decisions."
Airbus's upgraded A321 has garnered nearly four times as many orders as the competing Boeing models this decade as the Chicago-based company has studied its options for replacing the out-of-production 757 jetliner. While Boeing has contemplated a new-single aisle model for years, the decision is complicated by the risk of undermining sales of the 737, the planemaker's largest source of profit.

Leasing Godfather
Udvar-Hazy's comments carry weight in the industry after a four-decade career that included founding International Lease Finance Corp. in 1973, selling it to American International Group Inc. in 1990 and then creating Los Angeles-based Air Lease Corp. in 2010. Dubbed the leasing industry's "Godfather," he once estimated in an interview that he had purchased more than 2,100 planes.
Boeing is still trying to find the right balance between what airlines want and
what they are willing to pay for in the middle-of-market segment, Randy
Tinseth, Boeing's vice president for marketing, said in an interview Monday.
"We're in that stage where we're having active conversations" with potential
customers, Tinseth said. "Then you look at the technology available and what
the configurations might look like."
Boeing executives have studied both single- and twin-aisle models to plug the gap between the largest 737 narrow-body and smallest Dreamliner wide-body models. The planemaker could garner about 2,000 orders for a narrow-body jet stretched longer than the 737-Max 9 that boasted new engines and the range to fly from Newark to Barcelona, according to an analysis by CIT Group Inc.
Nickname: 797
"It's a tough decision. It's not easy," Jeff Knittel, president of CIT's transportation unit, told reporters Tuesday. "Building an airplane is not only hard, it's expensive. You'd better get it right."
As Boeing studies whether to develop a new aircraft, it would also have to decide whether to squeeze any new model into the factory in Renton, Washington, where it churns out 737s. Alternatively, it could locate production in an area with lower labor costs, Udvar-Hazy said, in an apparent reference to the company's new plant in North Charleston, South Carolina.
The planemakers "have a lot on their plate aside from making very difficult decisions about launching a 797-type airplane," he said, referring to an informal nickname for a potential new Boeing plane. "Maybe a year from now we'll all be a little more informed. But there's a lot to chew on right now."