EU's Juncker Requests $760 Million in Emergency Refugee Aid
by
European Commission chief seeks to support front-line states

Funding request highlights challenges posed by migration wave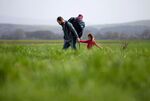 European Commission President Jean-Claude Juncker sought 700 million euros ($760 million) in emergency aid to help Greece and other countries in Europe tackle the continent's biggest refugee wave since the Second World War.
The proposal to tap the European Union budget highlights the challenge facing the EU as it struggles to cope with the influx of migrants fleeing war-torn parts of the Mideast. The aid requested by the commission, the EU's executive arm, would be over three years, starting with 300 million euros in 2016.
"This is to provide basic necessities," EU Humanitarian Aid Commissioner Christos Stylianides, who usually oversees European emergency assistance in the developing world, told reporters on Wednesday in Brussels. "We must address the humanitarian needs now within our borders. "
Following a six-year battle to keep the debt crisis from breaking up the euro area, Europe is scrambling to get a grip on asylum seekers who threaten to shatter the region's other main symbol of integration: a passport-free travel zone. In a sign of how the refugee wave has unleashed new political forces across the EU, Germany and Greece have become allies warning against internal-EU border closures after repeatedly clashing with each other over policies needed to restore fiscal health.
Greek Crisis
Greece, the focal point of the debt and refugee crises, is seeking to fend off the threat of extended internal European border checks that could leave migrants stranded in the country, which now serves as the main EU entry point. More than 120,000 refugees have crossed into Greece in the first two months of the year, according to the UN refugee agency UNHCR, with the government in Athens estimating about 25,000 stuck in the country.
Amid calls by German Chancellor Angela Merkel for Europe-wide solidarity with Greece, EU leaders are due to meet in Brussels on March 7 to grapple with the refugee challenge. One goal will be to press non-EU member Turkey -- the departure point of most refugees landing in Greece -- to help stem the flow. Turkey, which will also take part in the Brussels talks on Monday, has been offered 3 billion euros by the EU to help control migrants from such countries as Syria and Afghanistan.
Wednesday's EU aid request is mainly for Greece and countries along the so-called Western Balkans migratory route. The request needs the support of EU governments and the European Parliament. It is accompanied by a commission legislative proposal directed at EU governments to permit EU emergency aid to be used within the bloc.
"We will work with them to fast-track the negotiations, " Stylianides said. "These are extraordinary times."
Before it's here, it's on the Bloomberg Terminal.
LEARN MORE