Donald Trump Jr. Disavows Radio Host Over Racist Views
The son of the Republican front-runner says he unknowingly was interviewed by a radio host who has argued that slavery was the "greatest thing to have ever happened" to African-Americans.
By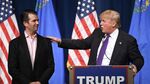 Donald Trump Jr., the son of the Republican presidential front-runner, is slamming reports that he knowingly gave an interview to radio host James Edwards, who has said he thinks slavery is the "greatest thing to have ever happened" to African-Americans.
Edwards has been promoting a 20-minute interview with Trump's eldest son all week, touting it as an exclusive that will air Saturday.
Trump Jr. said Wednesday that he was speaking to another radio host for a previously scheduled interview via telephone when, unbeknownst to him, Edwards chimed in with questions. "He was brought into the interview without my knowledge," the 38-year-old executive vice president for the Trump Organization said in an interview with Bloomberg Politics. "Had I known, I would have obviously never done an interview with him."
The timing of the release of the interview could not have been worse for the Trump campaign, which has faced intense scrutiny over the candidate's failure to clearly disavow the endorsement of former Ku Klux Klan grand wizard David Duke. 
"I didn't even know he endorsed me. David Duke endorsed me?" Trump said at a press conference last week when asked about Duke's support. "I disavow. OK?"
Trump's political rivals, including Florida Senator Marco Rubio and Texas Senator Ted Cruz, have blasted the Republican front-runner repeatedly for not denouncing Duke and the KKK more forcefully. 
Trump Jr. has fought back against criticism that his father is a racist, and cited several examples of prominent people within the Trump Organization who are females and minorities, including African-Americans, Hispanics, and Asians.
"I've seen him build a company where diversity is obviously apparent and important," Trump Jr. said. "My father puts people in positions of power on merit."
A top surrogate for his father's White House run, Trump Jr. said that the campaign had worked with an outside booking agency to line up 35 radio interviews for him to do via telephone from his Manhattan office in Trump Tower. 
One of those interviews was with Sam Bushman, who hosts a nationally syndicated conservative radio show. Trump Jr. said that unbeknownst to him, Bushman brought another person with him who also asked questions. It turned out to be Edwards, the host of a program titled "Political Cesspool."
"I never knew he was in the room so he didn't interview me. He did apparently ask a question or two though. I had no idea," Trump said.
Trump's son, meanwhile, says the criticism he has received over his appearance is an effort by those in the media to continue a "false narrative that my father is racist."
"This is clearly the mainstream media trying to turn a story into something, much like they did with my father, who I witnessed denouncing David Duke and any KKK endorsement on multiple occasions," Trump Jr. said.
He provided Bloomberg Politics with a copy of his schedule, which does not list the interview with Edwards in it.
"I didn't even know I was on with anyone other than Sam as it was radio and I only was scheduled with Sam per the call sheet," Trump Jr. said. "I certainly had no idea of James' background, and if I had I would have refused."
"The way the media is spinning it is as though I voluntarily spoke with this guy and I knew his background, rather than I was essentially duped by him being in the room and asking an inane question where I clearly could not have ever known what or whom I was talking to. It's very unfair, and typical of the way much of the media has handled us," Trump Jr. said.
Edwards could not immediately be reached for comment.
Trump Jr. recalled a meeting in the 1980s when he saw his father take with a female executive who was charged with leading the construction of Trump Tower.
"There was a female in charge of building that building," he said. "That would be very unusual even today, but in 1980 it was unheard of." When asked for her name, he said he couldn't recall. "But I remember she was a woman. I must've been, what? Like 4 years old."
"And I knew that to my dad, it doesn't matter your gender or your background—if you can do the job and work hard, you'll have a job," he said. "That's the story that's not getting out."