Cryan Sees Deutsche Bank Overcoming Legal Woes in 2016
by and
CEO says bank should've been `more forceful' on CoCo guidance

Lender to show `patience' on plan to sell Postbank division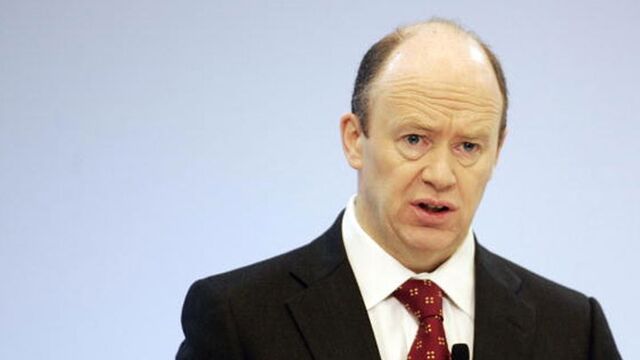 Deutsche Bank AG, the German lender that has paid more than $9 billion in fines and settlements since the financial crisis, expects to resolve the largest of its legal cases in coming months, co-Chief Executive Officer John Cryan said.
"Our appetite for settling these cases is immense," Cryan said, adding that while the bank has a "good reserve," it can't be certain it is adequate.
"There may be some more charges," he said at a conference in Frankfurt on Wednesday. "I would be incredibly disappointed if they were huge."
Legal bills have contributed to investor concerns that the bank may struggle to pay coupons on its contingent convertible bonds, known as CoCos. The bank's shares are down 24 percent this year, while the cost to insure against a default on its subordinated debt has more than doubled.
Cryan, 55, who took over from co-CEO Anshu Jain in July, is mopping up litigation and investigations stretching the globe, from probes into its U.S. mortgage-backed securities business to whether its traders colluded to manipulate currency rates. U.S. and U.K. authorities are also investigating suspected money-laundering at the Russian unit, people with knowledge of the matter have said.
Rock Solid
Deutsche Bank has a list of 20 legal and regulatory investigations which it keeps close watch on, because they will potentially be the most costly, the co-CEO said. Cryan said he personally was focused on "half a dozen or so" of them.
"We can never promise it, but hopefully they'll be behind us" by mid-year or the third quarter, Cryan said earlier Wednesday at a separate conference in Frankfurt. "2016 should be the year when we finish the process of tidying up the bank."
Seeking to restore confidence, Deutsche Bank on Feb. 9 published a letter to staff in which Cryan describes the company as "rock solid" after allowing for rising legal provisions. The bank has 5.5 billion euros ($6 billion) set aside for future penalties, according to its filings. In a further attempt to reverse the selloff, Deutsche Bank also offered to buy back about $5.4 billion of senior bonds.
Deutsche Bank is "incredibly liquid" with an "absolutely solid" balance sheet, Cryan said. The company's capital ratio will fall to a "low point" in the first quarter before rising as it sells assets that aren't central to its business, such as a stake in China's Huaxia Bank Co. in the second quarter and port operator Maher Terminals LLC by the end of the year, he said.
Postbank Sale
A key part of the bank's plan to raise capital ratios is the sale of Deutsche Postbank AG, a German consumer lender. The decline in shares this year means Deutsche Bank will probably wait to sell the unit, Cryan said. The bank has said it plans to sell a majority stake in the business by the end of next year.
"Our commitment is the same," he said. "It is today for sale, but why would we sell it at what we think are very low points in the market when, with a little patience, we can, we hope, potentially obtain a better price?"
Deutsche Bank has paid fines for alleged misdeeds including violating U.S. sanctions and rigging interest-rate benchmarks. Cryan pledged last month to resolve the bank's legal battles as part of an overhaul plan.
Germany's financial regulator, Bafin, last week announced the conclusion of probes into the lender's conduct in cases including interest rate manipulation, Banca Monte dei Paschi di Siena SpA and the trading of precious metals. Bafin cited changes already implemented and further measures to be taken by Deutsche Bank as reasons to end the special audits.
Last year, U.S. and U.K. regulators closed their probe of rate manipulation at Deutsche Bank with a record $2.5 billion settlement.
Before it's here, it's on the Bloomberg Terminal.
LEARN MORE