China Stocks Rally Most in Four Months on Economic Stimulus Bets
Bloomberg News
Steelmakers, coal producers climb before legislative meetings

Developers surge amid signs real-estate frenzy is back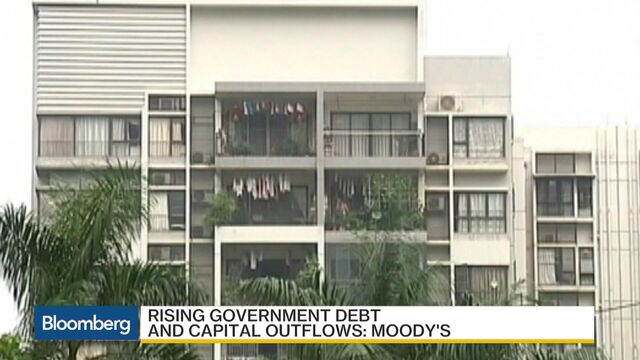 China's stocks rallied the most since November, led by property companies and commodity producers, on speculation the government will announce measures to boost growth at legislative meetings this week.
The Shanghai Composite Index climbed 4.3 percent, as a gauge of real estate companies surged 5.6 percent. The yuan weakened offshore after Moody's Investors Service reduced its credit-rating outlook on the nation to negative. The Hang Seng China Enterprises Index advanced the most in two weeks.
Pressure is building on the government to follow up on Monday's cut in lenders' reserve-requirement ratios with more stimulus after data this week showed a deterioration in manufacturing. The National People's Congress, where delegates will sign off on a new five-year economic plan, begins on March 5. The economic slowdown has been a trigger for the Shanghai Composite's 23 percent slump this year through Tuesday, the worst performance among 93 global equity indexes.
"There are policy expectations from the coming NPC meetings, such as growth-stabilizing measures, so the market shows signs of consolidating at this level," said Wang Zheng, who has been keeping his holdings unchanged recently as the Shanghai-based chief investment officer at Jingxi Investment. "The market is basically ignoring the Moody's news. China's capital markets are still quite isolated and heavily regulated so such news isn't likely to cause massive outflow."
Volatility, Turnover
The Shanghai Composite rose to 2,849.68 at the close, the biggest gain since Nov. 4. Volatility is increasing, with 50-day price swings hitting the highest levels in four months, while trading volumes in Shanghai surged 43 percent above the 30-day average. The number of new stock investors climbed 18.9 percent in the week ended Feb. 26 from the previous week to 423,600.
The Shanghai property sub-index jumped for the steepest advance among the industry groups. Poly Real Estate Group Co., the second-biggest Chinese developer, surged by the 10 percent daily limit, extending gains to 20 percent during a four-day rally.

Guangdong province will ease home-purchase restrictions for buyers from Hong Kong and Macau, the South China Morning Post reported. Shenyang is examining a zero down-payment mortgage policy, the party committee of the northeastern Chinese city said in a Weibo post on March 1, an idea that the People's Daily decried on its microblog account, saying that an "artificial bull market" will cause hidden dangers. The Shenyang government subsequently backed away from the plan, saying on its Weibo account that its plans are still in a preliminary stage and "not ready for implementation."
In an echo of the buying frenzy that propelled Chinese shares to unsustainable valuations last June, leveraged speculators are snapping up homes in top-tier cities in hopes that prices will keep surging. The boom, fueled by monetary stimulus and a loosening of property curbs in February, shows how government efforts to revive the world's second-largest economy also risk fueling asset bubbles.
The yuan traded in Hong Kong declined 0.09 percent to 6.5546 a dollar after the central bank cut the reference rate to the lowest in four weeks. China's credit-rating outlook was lowered from stable by Moody's, which cited rising government debt, falling currency reserves and uncertainty over the authorities' ability to carry out reforms.
Moody's Downgrade
"The market is shrugging off these concerns as what's being highlighted are not new," said Khoon Goh, a senior currency strategist at Australia & New Zealand Banking Group Ltd. in Singapore. "It would be a different story if this came out in January when there were depreciation pressures but since then authorities have managed to stabilize the currency, implement reforms in the bond market as the country continues to liberalize."
The CSI 300 Index rose 4.1 percent, with measures tracking material, industrial and energy companies climbing at least 4.9 percent to lead the 10 industry groups.
Coal and steel companies jumped amid speculation policy makers will take steps that have been dragging down the economy such as overcapacity. Anhui Conch Cement Co., the nation's biggest producer of the building material, soared 10 percent. Wuhan Iron & Steel Co. led gains for steelmakers, rising 7.3 percent. Yanzhou Coal Mining Co. advanced 10 percent to pace an advance for energy companies.
Growth stabilization policies, supply-side reform and reform of state-owned enterprises are among the key focus areas at the NPC and Chinese People's Political Consultative Conference meetings, China International Capital Corp. analysts led by Hanfeng Wang wrote in a note.
Hong Kong's Hang Seng Index gained 3.1 percent, led by energy and property companies, while the Hang Seng China index added 3.8 percent.
— With assistance by Shidong Zhang
Before it's here, it's on the Bloomberg Terminal.
LEARN MORE