Carmakers Seen Winning Reprieve From China Quotas on Growth Push
Bloomberg News
Local governments count on vehicle sales to boost economy

Total passenger vehicle sales may rise 10% annually by 2020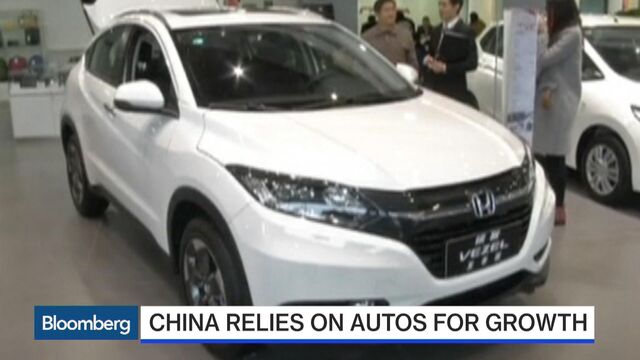 China will probably avoid extending restrictions on vehicle purchases to smaller cities as the government relies on the world's largest auto market to sustain economic growth, according to a top industry association.
Seven cities in China, including Beijing, Shanghai, Guangzhou and Shenzhen, have capped the number of new license plates issued each year in an attempt to control the growth in the vehicle population. Local media reports have speculated on impending restrictions in cities such as Wuhan and Jinan given worsening traffic and air pollution.
"Local governments are facing huge pressure to boost economic growth and they need robust vehicle sales at a time like this," Cui Dongshu, secretary general of the trade group, said in an interview. "We don't think there will be more cities limiting vehicle purchase during the next five years."

While the vehicle restrictions were put in place as part of a government response to address worsening air pollution in its major cities, the weakest economic growth in a quarter-century prompted policy makers to take the contradictory step of cutting a car purchase tax last year to encourage sales. The auto industry was also left off a list of sectors the government identified as suffering from excess capacity, despite estimates that car factories will churn out millions more vehicles than there is demand for.
A stay on additional vehicle purchase curbs will benefit Volkswagen AG, General Motors Co., Hyundai Motor Co. and their local manufacturing partners. Carmakers were left reeling as major markets like Beijing and Guangzhou imposed annual quotas in succession to control vehicle growth. At the beginning of last year, at least five more major cities were touted to be considering license-plate restrictions, the state-run Economic Daily reported.
In an about-face, the government halved the purchase tax on some passenger vehicles in October to bolster the industry after sales fell for a fifth straight month amid a stock-market rout. The measure has revived demand and total deliveries may rise about 10 percent annually through 2020 to reach 34 million units, according to the car association, which lobbies the government on policy.
Even so, the existing curbs by various cities have combined to erase about two million potential sales last year, according to the China Association of Automobile Manufacturers. In Guangzhou and Shenzhen, the sudden announcements by the municipal authorities of the restrictions sparked a mad rush by consumers to place their orders at dealerships, only for sales to plummet as the curbs took effect.
— With assistance by Tian Ying
Before it's here, it's on the Bloomberg Terminal.
LEARN MORE