BOE's Cunliffe Says Stability Risks From U.K. Housing Are Rising
By
Deputy governor warns buy-to-let may pose stability threat

Says number of high loan-to-income loans is increasing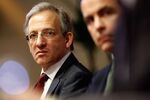 Financial-stability risks from U.K. housing are increasing again, the central bank's Deputy Governor for Financial Stability Jon Cunliffe said.
"Some of the risks that we saw in 2014 became more subdued as the market cooled off, as the flow of high loan-to-income mortgages went down, and as the level of transactions went down," Cunliffe told lawmakers in a parliamentary hearing in London on Wednesday. "The market is now coming back again so maybe some of those risks are becoming a little bit more prominent. The risks are a bit less now than they were in 2014 but you can see the market starting to move back again."
The Financial Policy Committee, led by Governor Mark Carney, is due to meet later this month. In June 2014, it took action to limit the number of high loan-to-income mortgages to prevent an unsustainable buildup of consumer debt. Still, Carney has said the property market poses one of the biggest stability threats to the economy and, on Wednesday, Cunliffe singled out buy-to-let lending as a potential risk should all investors want to sell at the same time.
Risk Spiral
"There could be risks to financial stability if it starts a spiral downward," he told Parliament's Economic Affairs Committee. "We don't have much experience of a stock of buy-to-let mortgage investors of this size."
Cunliffe said the percentage of new mortgages at values of more than 4.5 times the borrower's income, which was about 11 percent when the BOE took action to limit that type of lending in June 2014, fell to about 7 percent after that. It has increased to about 8.5 percent to 9 percent more recently.
He said the BOE should be careful of "wading in" on the wider societal drivers of the housing market like taxes and planning, as this goes beyond the central bank's remit.
Before it's here, it's on the Bloomberg Terminal.
LEARN MORE