Photographer: Aaron Bunch/Bloomberg
Aussie Economy Exceeds Forecasts as Households Open Wallets
by
Australia showing increased signs of transition to services

GDP's year-on-year growth was fastest since early 2014
Australia's economy grew faster than forecast in the final three months of last year, driven by a plunge in household savings to the lowest since 2008 and increased home building underpinned by record-low interest rates. The currency jumped more than half a U.S. cent.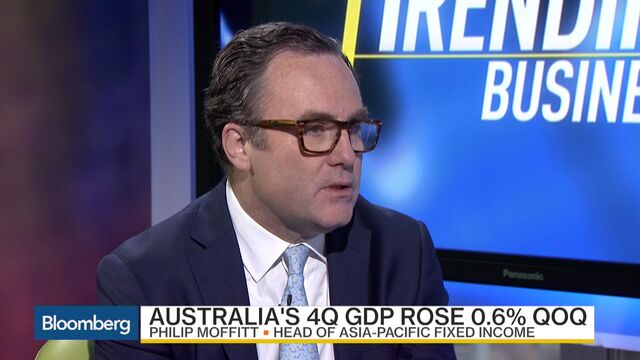 Gross domestic product advanced 0.6 percent in the fourth quarter from three months earlier, when it rose an upwardly revised 1.1 percent that was the biggest increase since early 2012, government data showed Wednesday. That compared with the median of 26 estimates for a 0.4 percent gain.
The report is a rear-view snapshot of a period when Australia's economy added the most jobs on record as industries including tourism and education capitalized on a lower currency and weak wage growth. Central bank Governor Glenn Stevens kept rates unchanged at 2 percent, betting existing stimulus together with a 23 percent drop in the oil price over the quarter would cushion the blow of rapidly retreating mining investment.
"The service sector is very strong," said Alan Oster, National Australia Bank Ltd.'s chief economist who picked Wednesday's result. "What you've got is a restructure in the domestic economy that is showing greater flexibility and adjusting from the mining-led part of the economy."

The local dollar jumped to trade at 72.39 U.S. cents at 4:40 p.m. in Sydney from 71.71 cents before the release. Yet traders are still pricing in a rate cut in the next six months, reflecting the backward-looking nature of GDP data.
"RBA policy making is forward looking and early indicators at the moment suggest weaker conditions -- at least in the first half of 2016," Bloomberg economist Tamara Henderson said in a report. "This provides scope for further easing."
Still, today's data showed:
* Household spending rose 0.8% in 4Q, adding 0.4 point to growth;
* Dwelling investment climbed 2.2% in 4Q, adding 0.1 point to the expansion;
* Non-dwelling construction, which includes mines, slumped 7%, subtracting 0.5 point from growth
Compared with a year earlier, the economy expanded 3 percent in the fourth quarter, the fastest gain since the first three months of 2014. The median forecast of economists was for a 2.5 percent rise.
"Take out mining investment from domestic demand and you end up with approximately 1 percent or 4 percent annualized in growth terms," Oster said. "The savings rate has fallen below 8 percent for the first time since the global financial crisis."
Commodity Rout
Australia's household savings ratio plunged to 7.6 percent in the fourth quarter from a revised 8.7 percent three months earlier. The terms of trade, or export prices relative to import prices, fell 3.2 percent from the third quarter and 12 percent from a year earlier, reflecting the continued decline in commodity prices.
"In Australia, the available information suggests that the expansion in the non-mining parts of the economy strengthened during 2015 despite the contraction in spending in mining investment," Stevens said in Tuesday's policy statement. "The board judged that there were reasonable prospects for continued growth in the economy."
Stevens and his board kept the benchmark interest rate at 2 percent Tuesday for a 10th month. The board reiterated that Australia's weak inflation provided scope to ease policy further should that be needed.
"We've managed to transition from the largest resources investment boom in our history to broader-based growth," Treasurer Scott Morrison told reporters in Canberra Wednesday, urging businesses to invest in non-mining firms. "Conditions are in place for this to occur: interest rates are low; the dollar -- as the governor likes to say, and rightly -- is doing it's job and has depreciated over the past few years."
Before it's here, it's on the Bloomberg Terminal.
LEARN MORE