Five Things You Need to Know to Start Your Day
Get caught up on what's moving markets
by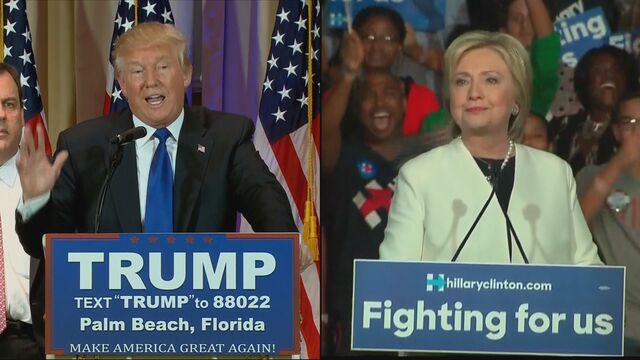 Global stock rally fades, Trump and Clinton triumph, and the ECB drops some hints. Here are some of the things people in markets are talking about today.
Stocks
U.S. stocks closed yesterday's session at a seven-week high and that bullish sentiment fed through to Asia, where the Shanghai Composite Index closed 4.3 percent higher, its biggest rally since November. The rally in China came in spite of rating agency Moody's Investors Service reducing its credit-rating outlook on the nation to negative. European stocks started this morning's session strongly, but have given up much of those gains to lie 0.3 percent higher at 10:57 a.m London time. S&P 500 futures are 0.3 percent lower.
Trump, Clinton had a Super Tuesday
Donald Trump dominated the Republican field in Super Tuesday voting, winning seven states, with Senator Ted Cruz of Texas taking three and Florida Senator Marco Rubio recording his first victory of the campaign in Minnesota. With Trump increasing his lead over his rivals, Irish bookmaker Paddy Power Betfair Plc this morning announced that it was paying out on bets he would win the nomination. Hillary Clinton also won seven states, getting her Democratic nominee campaign back on track after early Sanders scares.
ECB hints
This morning European Central Bank Executive Board Member Benoit Coeure said that the bank is "studying carefully the schemes used in other jurisdictions" to mitigate adverse consequences for banks of negative rates, in what is being viewed as a strong hint towards deeper cuts to interest rates by the ECB at its March meeting. In a letter published yesterday on the central bank's website, President Mario Draghi highlighted the downside risks facing the economy and said "there are no limits to how far we are willing to deploy our instruments within our mandate." The euro currency was unchanged at $1.0858 at 11:30 a.m. London time.
China investors turn to property
Perhaps tiring of the volatility in equities, investors in China have returned to investing in property with prices in some cities surging as much as 50 percent in the past year. Recent policy changes at the People's Bank of China and the expansion in shadow banking are set to increase the availability of credit, which may further fuel property speculation. 
Oil's problem
Even if OPEC members win their struggle with U.S. shale over market share, they still have another big problem to get over before they can expect a meaningful rise in prices - current oil stockpiles. The International Energy Agency forecasts that inventories will continue to build until the end of 2017 and then would take years to unwind. The oil price squeeze is not just hurting U.S. shale producers, with National Bank of Abu Dhabi PJSC CEO Alex Thursby telling reporters that they are facing a dollar shortage as revenue from oil dries up. 
What we've been reading 
This is what's caught our eye over the last 24 hours.
Want to receive this post, and more, into your inbox every morning? Sign up here
Before it's here, it's on the Bloomberg Terminal.
LEARN MORE