China's Other Growth Figure Is Flashing a Warning
Bloomberg News
Contribution to world growth down to less than half 2013 level

Leadership gathering offers chance to address rising leverage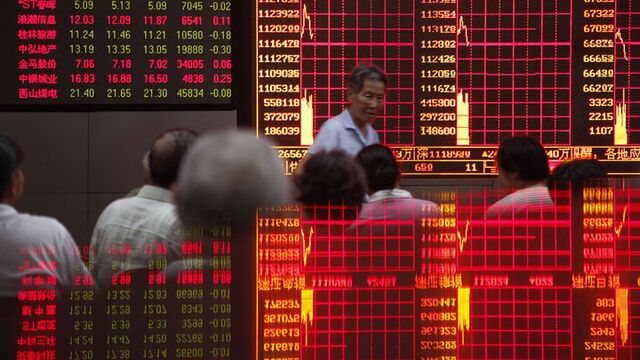 Obscured by the focus on the accuracy of China's growth figures is a tumble in estimates for the economy without adjusting for inflation -- a slide that gives a clearer picture of why the country's slowdown has stoked rising concern about its debt burden.
Gross domestic product in dollars, unadjusted for price changes, rose just 4.25 percent in the fourth quarter of 2015 compared with the same period of 2014 -- a gain of $439 billion. Just two years before, China added $1.1 trillion to the global economy, expanding 13 percent from a year earlier.
"Looked at in this way, financial markets reaction to deteriorating Chinese data is more understandable," said Arthur Kroeber, the founding partner and managing director at research firm Gavekal Dragonomics in Hong Kong.
Weakening nominal growth makes debt servicing harder, forming the backdrop for moves this week by Moody's Investors Service to lower its outlook on China's credit rating and HSBC Holdings Plc to cut its recommendations on the country's big banks. 

With Premier Li Keqiang's cabinet having eased a deleveraging drive last year, investors will get fresh insights into the Communist leadership's priorities at a gathering of the national legislature starting Saturday. Along with economic targets for 2016, officials will discuss the party's new five-year plan.
While in yuan terms the slowdown is more gradual, the decline in nominal GDP gains is still dramatic -- to a 6.4 percent pace at the end of 2015 compared with 10.1 percent back in 2013 and in excess of 18 percent in 2010 and 2011. The slide highlights the need to follow through on slashing excess industrial capacity, eliminating unprofitable enterprises and revving up new drivers of expansion.
"The biggest problem with plunging nominal GDP growth is that the cash-flow growth to the corporate sector has declined at a time when growth in its debt servicing has accelerated," said Victor Shih, a professor at the University of California at San Diego who studies China's politics and finance. "Because debt is so much larger than the economy, debt servicing each year will still be two to three times the incremental growth of nominal GDP."
China's debt-to-GDP ratio surged to 247 percent last year from 166 percent in 2007, propelled by a lending binge in the aftermath of the global financial crisis. Days before the National People's Congress, the central bank this week lowered the ratio of deposits major banks must hold in reserve, letting them deploy more in lending.
Data released Thursday signaled services strength moderated. The Caixin Media and Markit Economics China services purchasing managers index fell to 51.2 in February from 52.4 in January. Readings above 50 signal expansion.
Slowdown Causes
Nominal growth has slowed because of factors that include falling industrial output, excess industrial capacity that puts pressure on prices, and slumping prices of raw materials, said James Laurenceson, deputy director for the Australia-China Relations Institute at the University of Technology Sydney.
On an inflation-adjusted, or real, basis China's GDP for all of 2015 eased to a 6.9 percent increase, a pace that's affected by the price gauges that statisticians used. Looking at the dollar, rather than yuan, deteriorating economic growth helps explain the periodic panic in financial markets.
"Why has China always been so exciting to international investors and corporates? Because it's been becoming a bigger and bigger part of the global economy," said Tom Orlik, chief Asia economist at Bloomberg Intelligence in Beijing. "People used to talk about China overtaking the U.S. in 2020. On the basis of last year's nominal expansion that would never happen."
---

---
— With assistance by Kevin Hamlin
Before it's here, it's on the Bloomberg Terminal.
LEARN MORE