Airbus Draws Line at Giving China its Own Widebody Jet Plant
Bloomberg News
European company says orders don't justify final-assembly line

Planemaker not in business of helping competitors: Bregier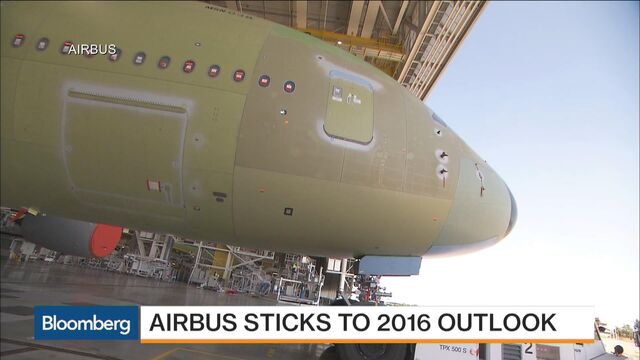 Airbus Group SE drew a line on how far it's prepared to extend jetliner production into China, saying it won't help competitors develop aircraft, and that the country's wide-body orders don't justify building its most lucrative models there.
No talks have taken place about construction of twin-aisle jets such as the A330 and A350 in China, Fabrice Bregier, who heads Airbus's planemaking arm, said at a briefing Tuesday in Tianjin, ahead of the opening of a completion shop that will put the finishing touches on wide-bodies flown in from Europe.
At a short ceremony Wednesday breaking ground on the finishing center, Bregier sat with officials from the Aviation Industry Corp. of China, the Tianjin municipality and China's top economic planning agency against a bright red backdrop emblazoned with an image of the A330. Airbus will perform painting and cabin-fitting work for the wide-body jet at the new plant, as well as assembling four A320s a month at its existing Tianjin facility for narrow-body planes. Rival Boeing Co. also is looking to open a single-aisle finishing center in China.
The A330 completion center, the company's first for wide-body jets outside of Europe, "marks a new milestone for Airbus's international footprint and underlines the strong cooperation with our Chinese partners," Bregier said. "We will continue to look for future opportunities."
Comac Threat
Airbus and Boeing face a balancing act as they court a Chinese aviation market that's expected to become the world's biggest in the next two decades, dangling the prospect of manufacturing work without agreeing to a degree of technology transfer that might threaten their industry leadership.
Airbus and Boeing have enjoyed a duopoly in making large jets since the U.S. company bought McDonnell Douglas in 1997 and Russian output faded after the collapse of the Soviet Union. In 2008 Airbus opened an assembly plant in Tianjin for the 1980s-vintage, single-aisle A320, where AVIC bolts together imported structures.
On Tuesday, Bregier said planemaker Commercial Aircraft Corp. of China is seen as "a very real competitor" that could become formidable sooner than the 20 years once envisaged. Comac is turning to its own wide-body plans, possibly in conjunction with Russia, as its single-aisle C919 nears its first flight.
"We do not cooperate with Comac," Bregier said. "We don't want to cooperate with Comac. We're not producing engines, we're not producing electric equipment, we've no joint venture with Chinese partners to support in the development of a competitor."
Year's Production
Airbus has won Chinese orders for about 200 A330s -- including 75 last year -- enough to support 12 months of production of a plane that entered service in 2004. Air China Ltd. and Hainan Airlines Co. also are buying the A350 model, which first flew in 2014 and is priced at $305 million for the mid-size version, and Bregier said other carriers are expected to follow suit.
The executive didn't say how many wide-bodies China would need to order for him to consider investing in a local assembly line. The country has ordered nearly 1,000 A320s, yet the planes assembled in Tianjin will represent only 7 percent of the 60 per month Airbus aims to produce globally from 2018.
Bregier said Airbus remains enthusiastic about partnerships in China, after electing to cooperate "massively" there 10 years ago to counter Boeing's dominance. A plan for AVIC to supply equipment such as seats and galleys to the Toulouse-based company will reach fruition in three to five years, he said.
— With assistance by Clement Tan, and Andrea Rothman
Before it's here, it's on the Bloomberg Terminal.
LEARN MORE