Zynga CEO Pincus to Step Down Again in Favor of Game Vet Gibeau
by
Former Electronic Arts executive oversees strategy, execution

Social-game maker has struggled to come up with fresh hits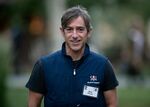 Zynga Inc. Chairman and co-founder Mark Pincus is stepping down as chief executive officer of the video-game company for a second time, to be replaced by board member and industry veteran Frank Gibeau, who will start in the new role March 7.
The move will allow Pincus, who becomes executive chairman, to focus on game development while having a seasoned manager make daily decisions. The company announced the changes Tuesday in a statement. In an interview, Pincus, 50, said the shift was his idea.
"I have done those jobs," Pincus said. "That's not my core value zone."
Zynga, a pioneer in social gaming, has struggled to come up with new hits on the scale of past successes, such as FarmVille and Words With Friends, and to shift its business to mobile devices. The company has a number of new mobile games coming out this year, including the military-strategy title Dawn of Titans, racing sequel CSR2 and one based on Willy Wonka slot machines.
Gibeau, 47, spent more than two decades at video-game maker Electronic Arts Inc. before stepping down last May from his role leading strategy and product development for that company's mobile unit. Pincus recruited him seven months ago to the Zynga board, where he has been mentoring product teams, leading planning meetings and delivering talks to game developers and marketers, the San Francisco-based company said in the statement.
"What I saw were all the ingredients of a successful turnaround," Gibeau said in an interview. "And a lot of proven brands."
A serial entrepreneur, Pincus ran Zynga from its founding in 2007 until July 2013, when he was replaced by former Microsoft Corp. executive Don Mattrick. Pincus took back the CEO title in April of last year.
Before it's here, it's on the Bloomberg Terminal.
LEARN MORE