Zuma-Gordhan Tug of War Focuses on South African Tax Agency
by and
Zuma resists firing tax chief, says processes must be followed

Rand would be hammered if Gordhan quit: Econometrix's Jammine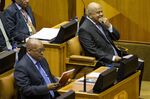 South Africa's tax collection agency is in the grip of a tug of war between President Jacob Zuma and Finance Minister Pravin Gordhan that's heightening risks for a stagnating economy on the brink of a junk credit rating.
Zuma on Monday rebuffed Gordhan's demand to replace Tom Moyane, the commissioner of the South African Revenue Service who the finance minister said showed "totally unacceptable" behavior by defying orders to halt a management overhaul. Johannesburg-based Business Day reported on Feb. 26 that Gordhan threatened to resign unless Moyane was fired, and the rand weakened by the most against the dollar since 2011 during the day.
Even before Gordhan returned in December to head the finance ministry, which oversees SARS, the agency was struggling to retain key staff and meet its tax-collection targets, with economic growth slowing on falling commodity prices and slumping demand from China and Europe. At least 10 senior managers have quit since Zuma appointed Moyane as commissioner in 2014.
"SARS is an absolutely critical institution," Azar Jammine, chief economist of Johannesburg-based advisory service Econometrix, said by phone. "If Moyane were to be replaced, it may be a positive rather than a negative. If Pravin Gordhan were to resign, I think we'd be at close to 20 to the dollar in next to no time."

Standard & Poor's cut its outlook on South Africa's BBB- credit rating, the lowest investment grade, to negative in December, citing concern about the deteriorating state of government finances. The Treasury and central bank expect the economy to grow less than 1 percent his year.
More potentially bad news for the economy came on Tuesday, when Barclays Plc announced that it will reduce its 62 percent stake in Barclays Africa Group Ltd. over the next two to three years.
"Our economy is in extreme difficulty, whether this directly feeds into the decision of whether to downgrade us or not is difficult to say," Nic Borain, a Cape Town-based political analyst and adviser to BNP Paribas Securities South Africa, said by phone before the expected announcement. "This is not going to help."
With Zuma's administration needing Gordhan to help maintain investor confidence, the finance minister will probably win the battle for ultimate control of SARS, according to Mark Rosenberg, Africa analyst at Eurasia Group in New York.
Regaining Credibility
Yet the current disputes within the government and the African National Congress may "undermine Gordhan and other pragmatists' efforts to regain credibility with markets and implement badly needed reforms," Rosenberg said by e-mail. "South Africa is most likely on a slow-burn toward junk status."
Zuma faced more political turmoil on Tuesday, with the High Court hearing a lawsuit filed by the Democratic Alliance, the main opposition party, for prosecutors to reinstate graft charges against him that were dropped just weeks before he became president in 2009. Parliament also debated an opposition motion of no confidence in Zuma that the ANC, with a 62 percent majority, easily defeated.
The DA introduced the motion, accusing Zuma of acting recklessly when he replaced the respected Nhlanhla Nene as finance minister with little-known lawmaker David van Rooyen in December, sparking a sell-off in the rand and nation's bonds.
Four days after firing Nene, Zuma reappointed Gordhan as finance minister, a post he held from 2009 to 2014.
Gordhan Secure
While Zuma's office said Monday that Gordhan's position isn't under threat, it also ruled out calling off a police investigation in allegations that SARS established a covert unit that spied on politicians, including Zuma, while Gordhan was in charge.
Police investigators wrote to the minister on Feb. 20, asking what he knew about the branch, known as the National Research Group. The unit was legally constituted and approved, acted within the law and helped to disrupt illegal activities, Gordhan said in a Feb. 26 statement.
Gordhan helped build SARS into one of the most effective government agencies, with tax revenue more than tripling during his tenure as commissioner from 1999 to 2009. Its fortunes have dimmed since he left. In the year through March 2015, revenue came in 14.7 billion rand ($920 million) below budget, and the National Treasury expects an 11.6 billion rand shortfall in the current fiscal year. 
'At War'
SARS said a decision to investigate the National Research Group and revamp the tax agency was taken by its previous acting Commissioner Ivan Pillay and approved by Parliament.
"The notion that Commissioner Moyane has used the implementation of the current operating model for other motives other than enhancing SARS effectiveness and efficiency is rather unfortunate and a deliberate attempt to discredit SARS and its commissioner," it said in an e-mailed statement on Tuesday.
Zuma's office described suggestions that he dismiss Moyane as "unhelpful," while calling reports that the president and Gordhan are "at war" a fabrication.
"The situation has become a tangle of economics and politics," Raymond Parsons, a professor at the North West University Business School in Potchefstroom, said by e-mail. "There are also considerations of personal loyalty and patronage at stake. It is difficult to see why President Zuma would want this brinkmanship to persist, given the present vulnerability of the South African economy."
Before it's here, it's on the Bloomberg Terminal.
LEARN MORE