UN Vote on North Korea Sanctions Pushed Back Until Wednesday
by
China, U.S. said progress was made during talks last week

Sanctions vote would come as North Korea holds U.S. citizen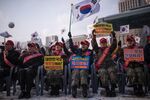 A United Nations Security Council vote on tighter sanctions against North Korea for a missile launch and nuclear test earlier this year was delayed until Wednesday, U.S. diplomats said.
According to a draft resolution obtained by Bloomberg News, the security council members will consider:
Mandatory inspections of all vessels going in and out of North Korea.
Banning exports from the country of minerals such as gold, titanium, rare earths, coal, and iron -- a key source of hard currency for the Kim Jong Un regime.
Banning aviation fuel exports to North Korea.
Designating additional individuals subject to travel bans and asset freezes
Putting representatives from Tanchon Commercial bank and Korea Mining Development Trading Corp. on a blacklist
Banning North Korea from chartering vessels or aircraft.
Freezing assets of North Korean entities linked to nuclear or missile programs


In addition, the draft says that UN members "shall prohibit financial institutions within their territories or subject to their jurisdiction from opening new representative offices or subsidiaries, branches or banking accounts" in North Korea. It would also ban small arms imports and require an inspection of all arms going into the country.
"This package of sanctions goes further than previous sanctions have," White House spokesman Josh Earnest told reporters on Tuesday. "Imposing these sanctions will have an impact on the financial well-being of the North Korean elite."
Humanitarian Impact

The draft doesn't include a ban on exporting oil to North Korea, and has a provision stating that the measures aren't intended to have "adverse humanitarian consequences for civilian population of North Korea."
The UN vote, which the U.S. originally sought for Tuesday, was delayed 24 hours at Russia's request, officials said. Secretary of State John Kerry and China's Foreign Minister Wang Yi discussed North Korea during a meeting in Washington last week, saying "significant" progress was made in drafting a UN resolution.
China's support of any new sanctions is essential as it is by far North Korea's leading trade partner, providing most of the isolated country's energy and food. That relationship has been strained as Kim ramps up his nuclear weapons program. The country tested a nuclear weapon in early January and followed that last month with a rocket launch. That prompted South Korea's government to say it would enter talks to have a U.S. missile defense system installed on its territory, a move China has long opposed.
UN action would come after North Korea's government said a detained U.S. college student confessed to taking down a propaganda sign in Pyongyang after entering the country on a tourist visa. North Korea has previously used detained U.S. nationals as a way to lure prominent American figures, such as former President Jimmy Carter, to Pyongyang as mediators to open dialog with Washington.
Before it's here, it's on the Bloomberg Terminal.
LEARN MORE