Win, Place or Show
Rubio Team Raising Expectations for Super Tuesday
The Florida senator has yet to notch a victory in the 2016 primary, and may not get one for some time.
By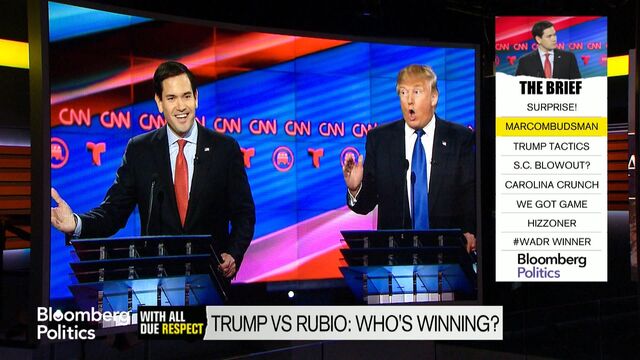 Marco Rubio's campaign has managed expectations so brilliantly this year that he was widely praised for a third-place finish in Iowa and capturing second in South Carolina. 
But in the final hours before polls close on Super Tuesday—the single biggest day of voting in the Republican primary—Rubio's team is telling potential supporters that they have significant momentum in at least four states and could even win outright in Arkansas, Oklahoma, Virginia and Minnesota.
"We're going to have a lot of delegates after tonight and you're going to see very clearly after tonight that Donald Trump has no chance of ever getting the delegates he needs to be the nominee," Rubio told reporters today. 
In multiple calls, donor meetings and political briefings Tuesday, Rubio's team is preparing supporters for a round of comeback stories in the media that would follow if they can pull off wins in two of those states, according to three people familiar with the conversations who sought anonymity to speak about private discussions. 
The sources described the campaign as being cautiously optimistic about those states, though not offering any guarantees.
Rubio campaign spokesman Alex Conant declined to comment.
Rubio's team also continues to assure donors that they're going to take the campaign all the way to the Republican National Convention in Cleveland this year. That strategy would require some strong victories for Rubio to pile up enough delegates so that he'd be a viable alternative to the current front-runner, New York businessman Donald Trump.
Trump has finished ahead of Rubio in the first four nominating contests, and Rubio needs to exceed expectations in order to revive his campaign. Trump has collected 82 delegates so far, compared to 17 for Rubio and 16 for Senator Ted Cruz of Texas. Ohio Governor John Kasich has won 6 delegates and retired neurosurgeon Ben Carson has collected 5. 
Trump has pocketed convincing victories in the last three states, and is widely expected to significantly grow his lead on Tuesday. Eleven states hold nominating contests Tuesday, with 595 delegates up for grabs. That's almost half the 1,237 needed to win the Republican nomination. Most of the delegates in these contests are awarded based on results in each congressional district, making victories statewide less important.  
An online Bloomberg Politics poll last week showed Trump was supported by 37 percent of likely Republican presidential primary voters in seven southern states that hold nominating contests on Tuesday. Rubio, of Florida, and fellow Senator Ted Cruz of Texas were tied at 20 percent.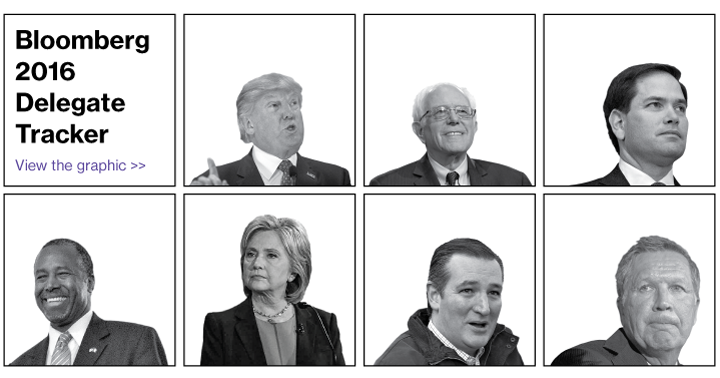 Before it's here, it's on the Bloomberg Terminal.
LEARN MORE