RBC Analysts Have Slashed Their Price Target on Valeant by More Than $100
Investors' laundry list of worries is getting longer.
by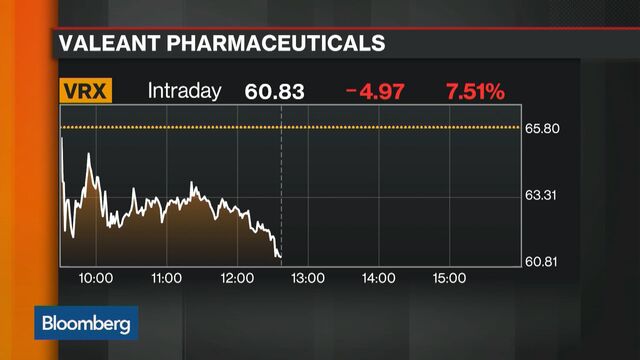 Immense uncertainty lingering over Valeant Pharmaceuticals International Inc. prompted analysts at RBC Capital Markets to downgrade the stock and cut their price target by more than $100.
Shares of the Canadian pharma company were battered on Monday amid heavy newsflow. The company indicated that Chief Executive Officer J. Michael Pearson was returning from medical leave, and it concurrently refrained from releasing an updated financial forecast and its fourth-quarter earnings report.
The embattled company also revealed that it is under investigation by the Securities and Exchange Commission.
"This is yet another element that investors will want clarity on before the valuation multiple is expanded," wrote Dougals Miehm, an RBC analyst, in response to the SEC probe. "As such, management and board credibility may, unfortunately, be further eroded in the short term."
RBC lowered its rating on the stock to "sector perform" from "outperform" and slashed its price target to $85, from $194, which represents a premium of nearly 30 percent to Monday's closing price.
Concerns over Valeant's accounting practices, particularly its relationship with specialty pharmacy Philidor RX Services LLC, as well as the extent to which its top-line performance has been buoyed by price rather than volume increases, have weighed on the share price since August. To add to the pain, Moody's also said it was considering lowering the company's credit rating.
The stock has fallen nearly 75 percent from its all-time high after declining 18 percent on Monday.

Management needs to address a laundry list of worries that investors may have, according to Miehm.
"Valeant is likely to trade at a discount to peers until several issues are addressed. These items include the delayed 10-K filing and [fourth quarter] results, the withdrawal of guidance, the ongoing investigations, the ad hoc committee's report, and the company's potentially strained relationships with constituents in the U.S. healthcare system (managed care organizations and [pharmacy benefit managers])," he wrote. "Additional undisclosed issues (if any) may also require resolution."
However, the analyst doesn't have an unduly bearish view on the firm's longer-term prospects.
"While we are confident that the company has several high quality businesses, unresolved issues limit our ability to maintain conviction on the shares," explained Miehm.
According to data compiled by Bloomberg, a majority of analysts continue to have a "buy" rating on the stock. However, as noted by Bloomberg News, a handful of analysts have soured on Valeant in recent days, with Scotiabank placing its rating under review and Deutsche Bank AG suspending its rating.
"We have long been skeptical of the VRX business model that had formerly depended heavily on fast-paced acquisitions, aggressive cost cutting, tax arbitrage, aggressive US price increases, and a heavy debt load," wrote Gregg Gilbert, a Deutsche Bank analyst .
Before it's here, it's on the Bloomberg Terminal.
LEARN MORE