Torture, Murders Stoke Tension in Egypt
by
El-Sisi takes steps to show his government can keep order

Economy lurches further as currency weakens, prices rise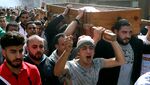 Ali Ismail had been planning to be at his youngest son's wedding, not his funeral.
Mohamed, a 21-year-old taxi driver, got a bullet to the head from a policeman in the Cairo district of Darb al-Ahmar last month during an altercation over a fare, according to witnesses and prosecutors.
"There was blood everywhere," Ismail, 61, a shoemaker, said in a phone interview on Feb. 25. "My son wasn't political. We're just people who work hard from morning to night to make 10 or 20 pounds ($1.30 or $2.60) just to put food on the table."
Reports of police abuses are hardly new in Egypt, but the slaying of the cab driver and suggestions that security forces were involved in the torture and death of an Italian graduate student have reverberated at home and abroad at an increasingly tense time for the most populous Arab nation. 
Regime Changes
Egypt has seen two changes of regime in five years and neither of them has brought about the social change and prosperity promised by their leaders.
The currency, the pound, stabilized in recent months, though is still tumbling on the black market. Food prices are rising, the budget deficit is widening and people are growing more agitated over President Abdel-Fattah El-Sisi'sstruggle to revive the economy.

Italy, the biggest importer of Egyptian goods, demanded an investigation into the killing of 28-year-old Giulio Regeni in late January. The Egyptian government has denied any officers were involved. Human rights groups said it bore all the hallmarks of a police arrest and interrogation.
The officer accused of shooting Mohamed Ismail was detained pending investigation by prosecutors and a trial date was set for March 5.
El-Sisi meanwhile has ordered amendments to laws governing police conduct. In a speech last week, he warned he would "wipe from the face of the world" anyone who threatens Egypt's improvements and urged people not to "listen to anyone but me."
"Sisi wants to demonstrate that he's personally interested in addressing these problems and recognizing that human rights abuses, from his perspective, are sometimes a problem," said Hani Sabra, head of the Mideast and North Africa practice at the New York-based Eurasia Group. "I don't think there's going to be major systemic reform in Egypt."
Alexandria 2011
It was the death of a man in Alexandria, Khaled Said, at the hands of police that became one of the catalysts for the 2011 uprising that ousted President Hosni Mubarak.
Mubarak was replaced by Mohamed Mursi, an Islamist and the first freely elected civilian president. He was removed by the army in 2013 after mass rallies against his one-year rule and then Defense Minister El-Sisi took over as the man to restore order. He sought to rid Egypt of the Muslim Brotherhood, before expanding the crackdown to activists and academics. 
Now the spotlight again is on the police. Doctors staged protests against assaults by officers in one Cairo neighborhood while the death of Mohamed Ismail was eulogized in Facebook photos of his sprawled body lying in a pool of blood.
Regeni, the Italian student, was researching labor unions. He disappeared on the anniversary of the 2011 revolution and his body was found days later bearing signs of torture. An Italian business delegation cut short a trip to Cairo.

The government says it upholds the rule of law and comes down hard on abuse by police. Yet for many Egyptians, it's their daily interaction with officers that serves to reinforce the notion that little has changed since Mubarak.
"Show me a man on this street who hasn't been insulted or abused by police at some point," said construction worker Walid Talaat, 27, waving an arm at a crowded street as a few onlookers nodded in agreement. The police, after taking a low key approach in the couple of years after Mubarak's ouster, "are back and they're even more brutal than they were before," he said.
Economic Malaise
In the background, the economy is struggling to create enough jobs despite a growth rate that would be the envy of any developed country.
Finance Minister Hany Dimian said on Feb. 22 the country reduced its growth forecast to as low as 4 percent from "north of five percent" in part because of effect on tourism of a downed Russian passenger jet in October. Russia, the U.S. and U.K. have blamed the deaths on militants.
The budget deficit is expected to widen to as much as 11.5 percent of gross domestic product and Prime Minister Sherif Ismail suggested that "harsh" measures were in the offing. Egypt has relied on tens of billions of dollars in aid, loans, grants and investments from the Gulf Arab states, support that may be curtailed after oil prices collapsed.
If there's austerity, "it would definitely stir up a lot of anger in Egypt," said Ziad Akl, a senior researcher at the Al-Ahram Center for Political and Strategic Studies in Cairo. "What's happening right now is the regime is realizing the state cannot survive on security alone."
Rogue Officers
With grumbling in the street mounting, singling out low-ranking police officers is stifling unrest for now.
Ali Ismail, the father of the murdered cab driver, said authorities have rallied behind him, including Interior Minister Magdi Abdel-Ghaffar, who promised him "that my son's rights – my rights – won't be lost." On the day of his death, Mohamed had collected money to use for furnishing the new apartment he was going to live in with his bride.
"I want him to be executed," he said of the policeman accused of killing Mohamed. "That's my son's right. I'm asking his excellency, the president, to give us our rights."
Before it's here, it's on the Bloomberg Terminal.
LEARN MORE