Medtronic Shares Fall as Foreign Exchange Crimps Sales, Margins
by
Medtronic Plc, the world's biggest maker of heart-rhythm devices, fell in New York trading after quarterly sales and operating margins failed to meet analysts' expectations, due to the strong dollar and the devaluation of the Argentine peso.
The company posted sales of $6.93 billion for the fiscal third quarter ended Jan. 29, just below the $6.99 billion estimate of 20 analysts surveyed by Bloomberg. Operating margins, which investors use to track the integration of the company's purchase of Covidien Plc in January 2015, were 27.8 percent. Earlier forecasts from the company ranged from 28 percent to 28.5 percent.
The shares fell 4.5 percent to $73.89 at 12:34 p.m. They earlier touched $73.06, their biggest intra-day decline since August.
While the Covidien integration is actually going well, and the company is on track to exceed its cost-saving goal of $300 million to $350 million for the current fiscal year, the continued strength of the U.S. dollar is sapping some of those benefits, Chief Financial Officer Gary Ellis said. Over the past 18 months, the company has reported $2 billion less in revenue than it would have if exchange rates had stayed unchanged, he said in a telephone interview.
"Foreign exchange is kind of camouflaging some of the real benefits you're seeing from an operations perspective," he said. "It's significantly impacted our reported revenues because you transfer those foreign sales back to dollars. It's a new normal -- the dollar is strong."
The unexpected devaluation of the Argentine peso created a $21 million expense for the company, Ellis said. While Medtronic hedged the majority of its operating results in developed markets, a growing portion of profits come from emerging markets where currencies aren't hedged, creating volatility, he said.
For the current year, Medtronic's hedging strategy mitigated some of the impact by generating gains of about $100 million, Ellis said. The company can't hedge at the same level for next year, and if exchange rates don't change the company's earnings will take a hit of 20 cents to 25 cents a share, he said.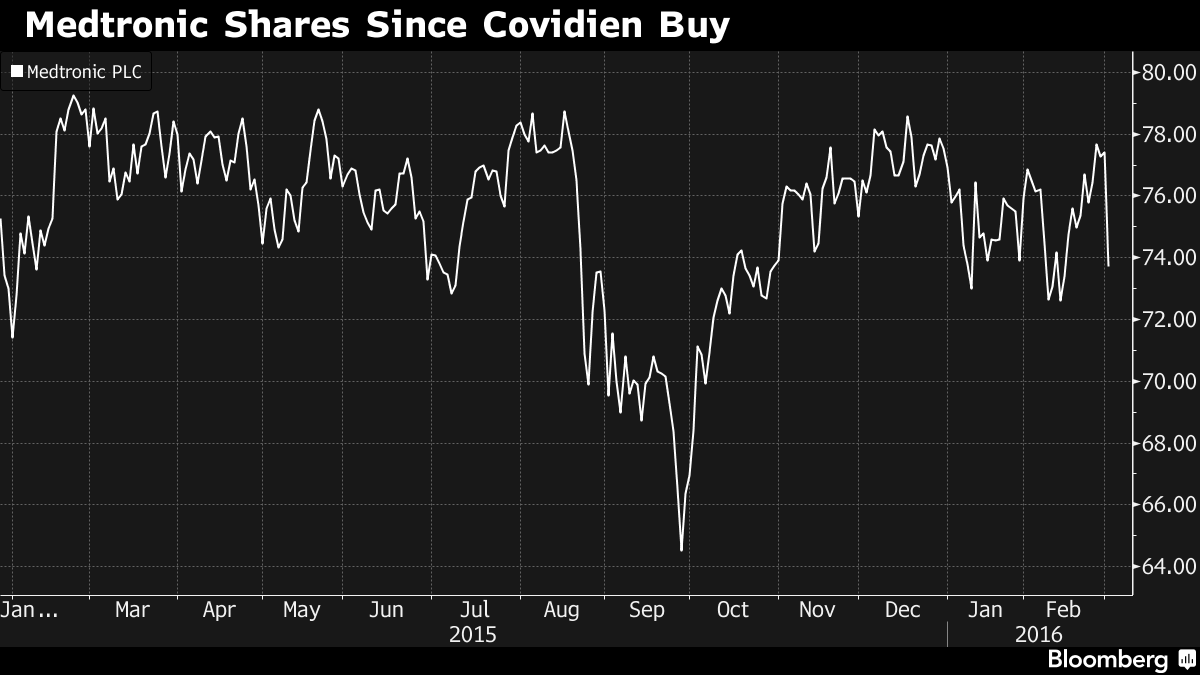 Medtronic posted profit of $1.06 a share excluding one-time items, in line with the $1.06 average prediction from 23 analysts compiled by Bloomberg.
The company reiterated its fiscal year 2016 forecast of $4.36 to $4.40 a share.
Net income was $1.1 billion, or 77 cents a share, compared with $977 million, or 98 cents, a year earlier.
Before it's here, it's on the Bloomberg Terminal.
LEARN MORE